I understand what Federer, Nadal felt in Oz Open final, says Tendulkar
"In 2005-2006 (in) one of the press conferences I was posted a question 'so when are you going to retire?'"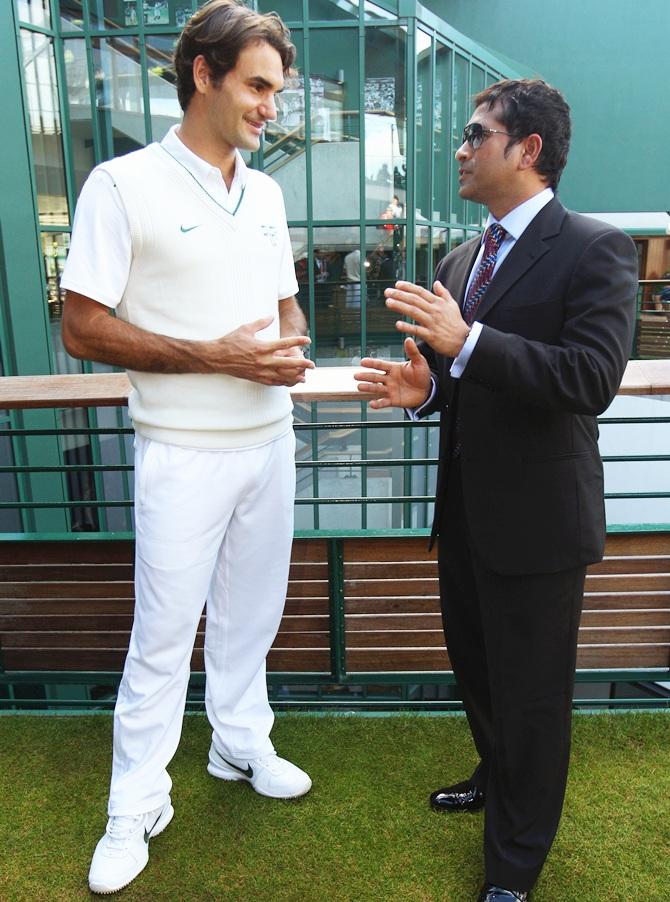 IMAGE: Sachin Tendulkar (right) speaks with tennis player Roger Federer. Tendulkar is a self-confessed Federer fan. Photographs: Oli Scarff/Getty Images
He saw the epic match only in bits and pieces but Sachin Tendulkar says he could well understand what veterans Roger Federer and Rafael Nadal might have felt during their Australian Open final clash.
Federer defeated Nadal in a memorable five-setter, on Sunday, to end a five-year-old Grand Slam drought and add an 18th Major trophy to his cabinet.
"I had lot of injuries and there were some tough times. In 2005-2006 (in) one of the press conferences I was posted a question 'so when are you going to retire?' and best years came after that, the biggest thing in my life happened after that, the 2011 World Cup," Tendulkar recalled.
"And I could actually understand what both those athletes (Federer and Nadal) were feeling and Federer actually said in his post match speech that both of them never thought they will be standing in the middle of the court but it was all about enjoying the sport," he added.
Tendulkar, a self-confessed Federer fan, said the two greats showed why they remain a force in world tennis.
"They both had done whatever they had to and we have enjoyed their tennis. This is just an extension of what they have done in their past, the remarkable moments they have given (is) something that is going to stay with us forever. I have always been a huge fan of Federer", said Tendulkar.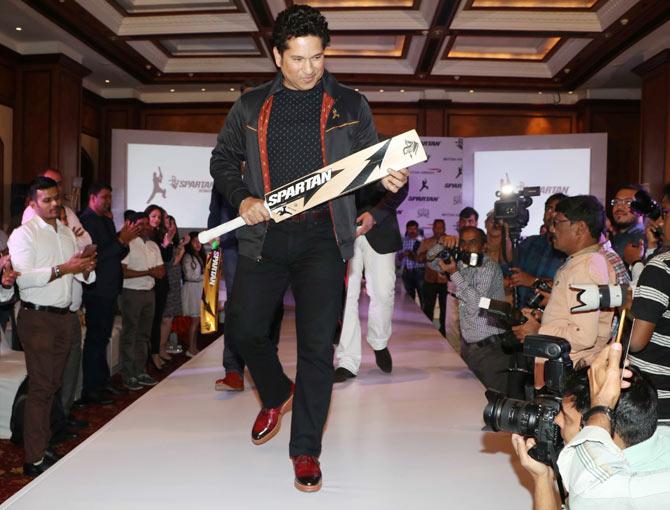 IMAGE: Sachin Tendulkar launches range of sporting equipment and sportswear. Photograph: Hitesh Harisinghani/Rediff.com
"Tennis was exciting in fact, I got excited well before the game (the final). The previous day, I posted a tweet and said any guesses for whom I will cheer, so I got a lot of responses, obviously (I am) a huge fan of Roger Federer," he said at an event in Mumbai.
"Unfortunately, I had some prior commitments yesterday so as and when I got time I was watching (the final) but I was one of the guys, who didn't want the match to get over, because I sitting in the airport lounge and I was watching. (I) managed to watch the last two three games and the quality of tennis was just incredible, more so I enjoyed it because I could relate myself with both those athletes (Federer and Nadal)," said Tendulkar.
"Yesterday if you would have asked so many guys would have said we would settle for a draw, which happens in cricket," added Tendulkar.
Meanwhile, the batting great also recalled that he had India colours on his bat in his last Test match and it was his way of thanking the fans.
"There is no toss up, India colours, 100 per cent. I am not going for all these colours. If you notice the last Test match which I played before retiring, my bat had India colours and that was the way to thank all my fans.
"For 24 years, they fasted for me, prayed for me, they have cheered for me, being out in the sun, being in the middle itself is quite trying, sometimes the game is not moving fast and still you have to sit in the stands in hot sun and support your player. It takes a lot of effort and the guys have done that. Without any doubt India colours," he added when asked for the choice of colours he would have for his bat.