'They have played well against Australia recently and now against us, so it will be difficult to beat them. But when we do come back (for the World Cup) we will be all geared up.'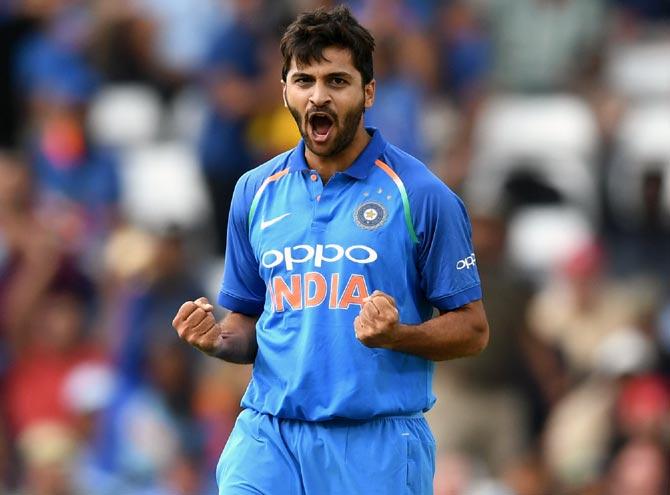 India pacer Shardul Thakur stated it is never easy to come off the bench and perform straight away in high-pressure games, and he too felt the heat in the series-deciding third and final ODI against England in Leeds, on Tuesday.
Thakur came in for Siddarth Kaul as India went for a new-look pace attack in the series decider against Leeds on Tuesday, but ended up losing the game by eight wickets, thanks to Joe Root's 13th ODI hundred.

Mumbai fast bowler Thakur ended with figures of 51 for one in 10 overs.
"I played the last game in South Africa when we had won that series, and it wasn't a necessary win for us. Playing this game, I was obviously a bit nervous because it is the series decider. When you are put under pressure, it's a player's responsibility to put forward your A game. Sometimes the results go your way, sometimes they don't," Thakur said after the loss.

"When given opportunity in a one-off game my mindset is always to win the game for team when I step on the field. While playing this game, it was the same. Also when I am put in different teams, whether I am put in India 'A' or in domestic cricket, it is always the same," he said.

India were restricted to 256 for eight after being put into bat, and Thakur along with the rest of the bowling attack lacked penetration against Root and Eoin Morgan who put on an unbeaten 186-run partnership for the third wicket to guide the hosts to an easy victory, which helped them clinch the ODI series 2-1.

It meant that India, who won the T20I series 2-1, lost the ODI series by the same margin after winning the Nottingham ODI by eight wickets and suffering an 86-run defeat at Lord's. The five-Test series begins in Birmingham on August 1.

"It's unfortunate that we lost this game. If you see overall we have done quite well. Keeping the World Cup in mind, which is next year, I think whatever batsmen have learnt from this T20 series and ODIs will be useful, how to bat in these conditions and for bowlers how to bowl in these conditions, I think it is very important. And going forward in this year's cricket, whichever games we play, I think our team would execute what we want to do," he added.

The visitors did have their chances in the game, when Virat Kohli and Shikhar Dhawan put on 71 runs for the second wicket but the latter's run-out led to a middle-order collapse that saw India slip to 158 for five before they eventually ended up on a below-par total.

Thakur said that was where India lost the game, while the English batsmen negotiated Yuzvendra Chahal and Kuldeep Yadav quite well when faced with a below-par target.

"Shikhar and Virat were going really strong. If they had continued to bat till 40th over, maybe it would have been different and we could have put up 300. The wickets we lost in the middle overs made the difference," said Thakur.

"England played really well against Kuldeep. If you saw the pitch, it had changed and got slower. They were playing spin easily on the backfoot and taking singles. So they played them very well," he added.

This series was built up as a dress rehearsal for the 2019 50-overs World Cup, but the last two losses have highlighted India's many deficiencies, starting from the middle order to a long tail to over-dependency on the top-order.

In light of India's loss against the number one ranked ODI side, Thakur said England were favourites for the World Cup next summer.

"They are obviously favourites because these are their home conditions. England know them better how to play cricket here, so other teams have a big challenge to play here. They have played well against Australia recently and now against us, so it will be difficult to beat them. But when we do come back (for the World Cup) we will be all geared up," Thakur signed off.