You don't become the Number One side in the world without the hard work and toil before and after the bails are off.
Text and Photographs: Abhijit Masih from the Pallekale stadium in Kandy.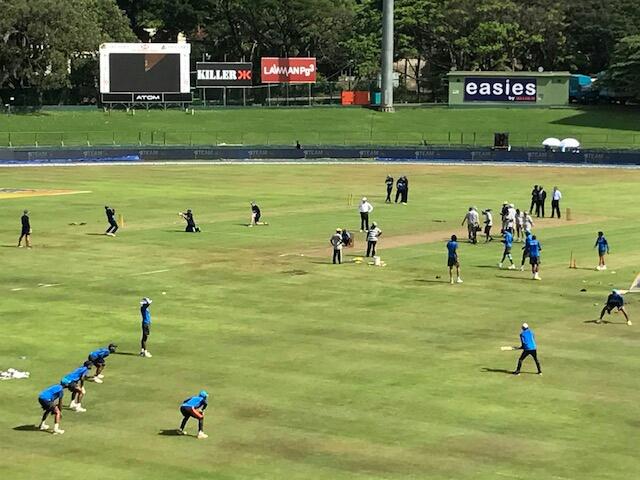 IMAGE: The Indians during the warm up drills.
Skipper sweats it out in pre-match training session.
The series is almost in the bag with two consecutive wins. Virat Kohli, chasing the Australian record of 9 consecutive series wins, is not letting up. It is quite evident from the time spent sweating it out before the toss.
The visitors seemed to have been preparing for a fielding session on day one.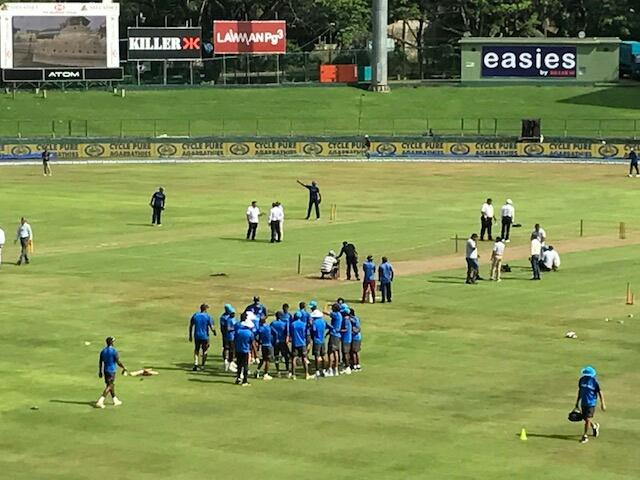 IMAGE: A pep talk from the coach before the action.
Seriousness writ large on each and every member's face. Perhaps, a trickle down effect from the top man. The skipper leads the pack in the warm up session.
Post warm up drills, the team split up in two. The slip cordon and the bowling unit.
The former -- Virat, Ajinkya, Shikhar, Hardik along with Wridhiman. First, the catch practice for nicks and then backward running high catches.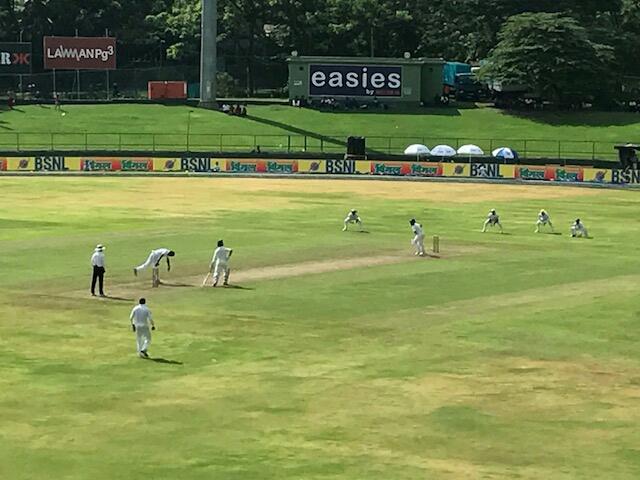 IMAGE: Sri Lanka's left-arm spinners tied the famed Indian middle order in knots on the first day.
Shami and Umesh throw down their quicks while Ashwin and Kuldeep twirl their wrists.
When the skipper goes off for the toss, the catching practice continues.
The only person who does any batting knock downs is Shikhar Dhawan, honing square leg shots. And did he use it well later on Saturday.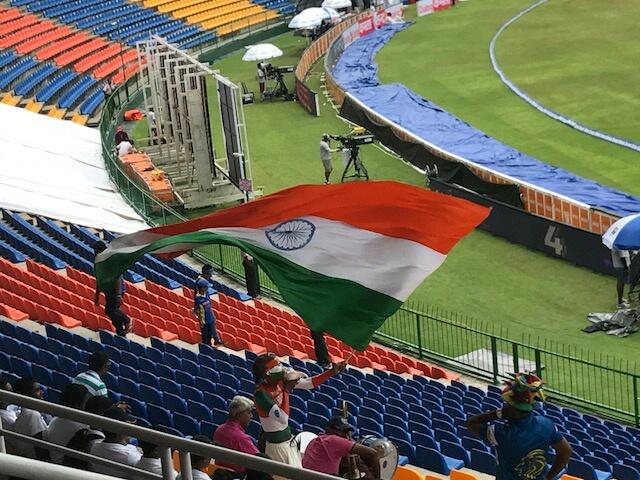 IMAGE: Even as the Sri Lankan side had crowd support, Indian cricket's No 1 fan Sudhir Kumar Chaudhary waves the tricolour proudly.
Even during the lunch break, as soon as the players walk off the field, on comes Bhuvneshwar and Ishant, bowling the 5th wicket line consistently.
The scenic Pallekale stadium witnesses some scintillating strokeplay from Shikhar as he and Rahul dominate the morning session.
The Sri Lankans, with considerable home support, somehow get their act together in the post lunch session.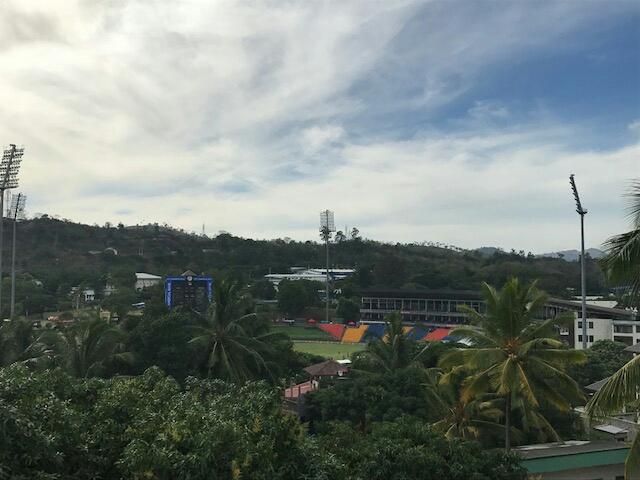 IMAGE: The Pallekalle stadium is located in picturesque surroundings, so true of much of the island.
But they still have some catching up to do because you don't become the Number One side in the world, winning almost 9 consecutive Test series, without the hard work and toil before and after the bails are off.
The television coverage invariably shows the performance of the players and the team. But the preparation before the curtain rises is what matters.
And these boys truly put in a lot of time and effort in doing that.
Perhaps that is what makes them Number One.