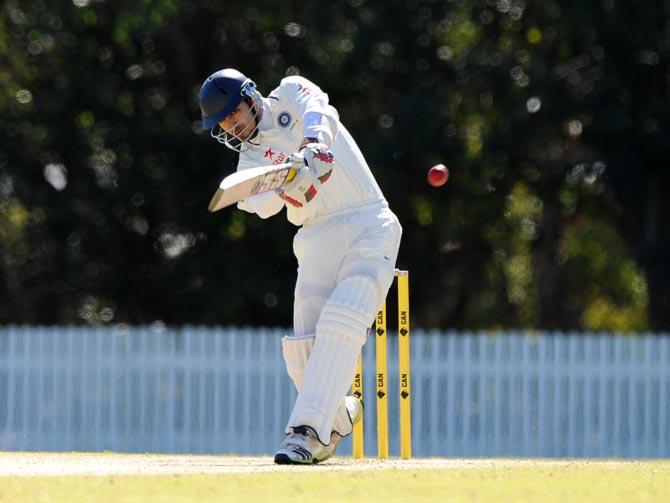 IMAGE: Naman Ojha in action. Photograph: Matt Roberts/Getty Images
Naman Ojha may not be India's No 1 Test wicketkeeper but he has hopes of making the national team for its next assignment in the longest format.
"You need to keep performing, you need to follow certain standards and I think last two-three years, I have achieved that; scoring runs in Australia; scoring runs in Duleep trophy; double hundreds, hundreds, so I think that is the best thing. When you are (at) the top of your game and that's the best thing and then play for India," the Madhya Pradesh player said.
"Play for India…that monogram," he answered when quizzed about what keeps him going.
Ojha has not played for India after making his Test debut against Sri Lanka last year. His only ODI appearance was way back in 2010.
On his Test debut in Sri Lanka, he said: "Yes, of course, I think it was the best moment of my life. I think everybody dreams to play for India and I think playing a Test match you need a skill; you need good skills, you need hard-work and discipline.
"You need everything which is required to play cricket and I think playing Test cricket is the best feeling," he said on the sidelines of the he 12th IDBI Federal Life Insurance D Y Patil T20 cricket tournament.
When asked whether his sees himself in the Indian Test dressing room during the tour of West Indies in July-August, he said, "See, my job is to perform and after that I came again in domestic circuit and performed in domestic season, I am hoping things will fall (in place)...".
According to the 32-year-old, his Ranji trophy form was pretty good.
"If you see in my quarters-finals and finals (semi-final), I have scored more than 300 runs. When the team requires in knock out situation and when you deliver, that is the best thing. Scoring runs in knock outs is like a gold," he added.
On his equation with India's No 1 Test keeper Wriddhiman Saha, he quipped, "We have a healthy rivalry, I got my chance and I did really well, my job is to whenever I get chance, I want to do well. That is what my focus is."