'It is a very significant fall from grace and we will need to ask ourselves some questions as to why or how this has happened.'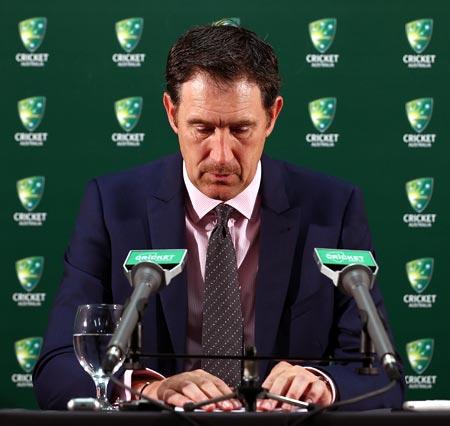 Cricket Australia chief executive James Sutherland rejected clarion calls for a formal review and said the game is in "good shape" despite the Test team's fifth successive defeat.

Australia's 2-0 series loss to South Africa, sealed with an innings and 80-run humiliation in Hobart on Tuesday, triggered acrimony among former players and pundits, while putting staff, selectors and the nation's richly-resourced high performance programme under the microscope.

Local media have called for a root-and-branch review into the national set-up, five years after the Argus report brought sweeping changes in the wake of Australia's seismic 3-1 defeat to England in the home Ashes series of 2010-11.

Sutherland, however, attempted to hose down the sense of crisis while putting the onus on the players to dig Australia out of its hole.

"I don't think there needs to be another review," the long-serving boss told reporters in Hobart. "(The Argus review) provides a strong blueprint and a reference point for us to look at where we've come from and where we are.

"It has certainly served Australian cricket well over the course of the last few years. We've risen to be number one in the world in Test cricket and one-day cricket. We've won a World Cup post the team performance review.

"Ultimately, that's a decision for the board as to if I'm the right person to lead, but ... broadly speaking, Australian cricket is in good shape."

Sutherland confirmed captain Steve Smith would have a different squad for the dead rubber Test against South Africa in Adelaide next week but flagged no personnel changes in the game's high performance set-up, which has been led by former rugby international Pat Howard since 2011.

Howard, along with head coach Darren Lehmann and selectors chairman Rod Marsh have all been under huge pressure during the team's decline, which hastened with a 3-0 whitewash by Sri Lanka in July and August.

Sutherland has overseen a surge in revenues in recent years in tandem with the growth of the domestic Twenty20 tournament, with proceeds plumbed into performance pathways, women's cricket and burgeoning contracts for the top men's players.

But the game's rude financial health has offered little solace to disaffected local fans who have littered social media with demands for heads to roll.

From being the world's top-ranked Test team in August, Australia could slump as low as fifth if South Africa win in Adelaide.

"I think the performance of the Australian team does ultimately reflect it one way or another on people's perceptions of the game," Sutherland said.

"That's why it's incredibly important that we address this and try to turn the team's performances around as quickly as possible.

"Three months ago, we were the number one Test team in the world and the number one one day team in the world.

"It is a very significant fall from grace and we will need to ask ourselves some questions as to why or how this has happened."
Image: Cricket Australia chief executive James Sutherland
Photograph: Paul Kane/Getty Images