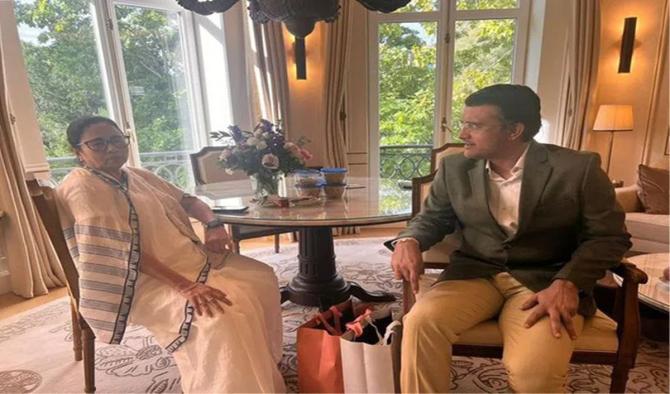 Dada -- Sourav Ganguly -- had a meeting with Didi -- West Bengal Chief Minister Mamata Banerjee -- during her visit to Spain.
Mamatadi was in Spain to attend a business summit aimed at attracting foreign investment to Bengal.
The West Bengal government and Liga Nacional de Futbol Profesional (La Liga) have entered into an MoU to enhance football through collaborations between India and Spain.
'Bengal is a hub of football, and the passion for this beautiful sport runs deep in every Bengali's heart. Today, Hon'ble CM @MamataOfficial had a productive meeting with La Liga Officials to explore investment prospects aimed at promoting the sport in our state,' Didi's Trinamool Congress tweeted.
In another significant development from Madrid, Spain, Chief Minister Mamata Banerjee has once again put West Bengal and football on the global map. An MOU has been signed with @LaLiga to establish a new football academy in West Bengal, bringing it closer to our passionate fans. It's time to score big and make history!' TMC tweeted.
Dada was present at the event as were state Chief Secretary H K Dwivedi, and representatives of two Kolkata football clubs in West Bengal: Debasish Dutta, general secretary, Mohun Bagan, and Ishtiaque Ahmed, general secretary, Mohammedan Sporting.
On Thursday, TMC also shared a video showing Didi jogging early morning in Madrid.