'I don't think there's anything that we did wrong. It was just some fantastic hitting in the last over'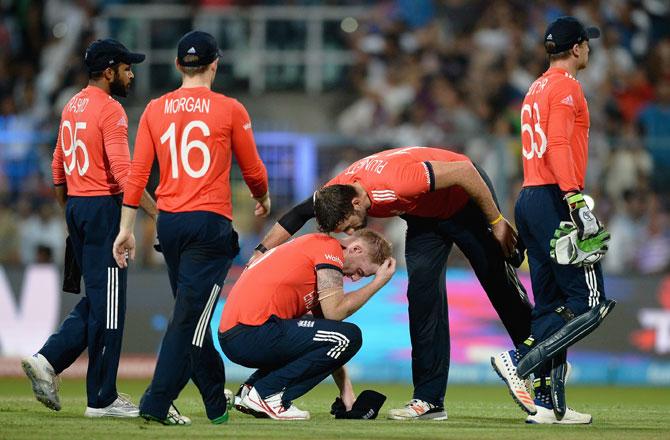 IMAGE: England's Ben Stokes is consoled by team-mate Liam Plunkett after losing the ICC World Twenty20 final against the West Indies at Eden Gardens. Photograph: Gareth Copley/Getty Images .
Heartbroken after being outdone by Carlos Brathwaite's four successive sixes in the final over to lose the World T20 final, England coach Trevor Bayliss said the West Indies batsmen were the best in the 'power-hitting' business.
"I don't think there's anything that we did wrong. It was just some fantastic hitting in the last over. Someone has to do something remarkable to do that. He's done it for them at No 8. The hitting power they got right down is probably strongest in world cricket which is tailor-made for this format of the game," Bayliss said after their four-wicket loss on Sunday.
With 19 runs to defend from the last over, England were in with a chance to lift the crown but Braithwate did the unthinkable with English pacer Ben Stokes at the receiving end.
Strongly supporting his pacer, Bayliss said, "No one is blaming Stokes for anything. It was not for him... To be honest, he's heart and soul of this team. His fielding and the effort he puts, we will go a long way.
"Obviously it's disappointing tonight but extremely proud with the way they played through last two weeks."
Marlon Samuels had some heated exchange with Stokes and Bayliss said both were to be blamed.
"I think there's a bit history between those two since the England tour of the West Indies. I can't comment on that. Some words are spoken and I don't think the opposition was squeaky clean either. It's not all one way."
Bayliss however said they fell short in batting as the struggled early on to put up 155/9.
"I thought we probably little bit short with the batting. The character and the effort they put to come back we knew we were in if we took some early wickets to put pressure on their team. We saw how they were under pressure in some of the other games chasing low totals. We thought that was our best chance and we got off to a great start, all credit to the boys."
In their defence, England captain gave the ball to Joe Root in the second over in a master stroke as the part-time off-spinner accounted for the prized scalps of Johnson Charles (1) and Chris Gayle (4).
"Gayle sometimes does not necessary like facing the off-spinners early. It was just to see what happens and we could not have asked for a better over," said Bayliss.
The loss was reminder of their 2013 Champions Trophy final loss to India at home where they had collapsed from being 110/4 with 20 needed from 15 to go down by five runs.