Shivnarine Chanderpaul yet again rescued the struggling West Indies with his gritty century but the left-hander dismissed suggestions that he has been carrying the burden of propping up his team's batting department for long.
Chanderpaul scored an unbeaten 111 against India in the opening Test as West Indies reached 256 for five at the end of day one.
"That is not a fair statement. We have other quality batsmen in the team. They have done well in the series in Bangladesh. We have very capable players. I am doing what I am supposed to do and playing my role in the team," Chanderpaul said.
He, however, said that he has been helping the youngsters in whatever way he can for the betterment of the team.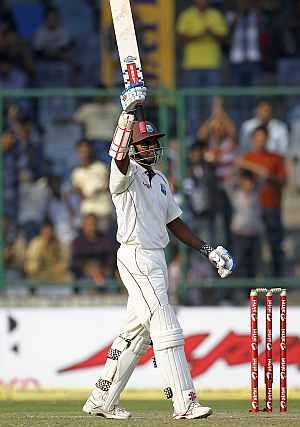 "I have been helping my teammates especially the youngsters how to go about batting. I am helping them in whatever way I can. When they have any doubt they come to me and I helped them," said 37-year-old left-handed batsman.
"The wicket was pretty good to bat on. It might deteriorate later but it was nice to bat today. So I started at a good pace," Chanderpaul said.
Asked about the time when he was dropped from the West Indies squad when there were controversies going around, Chanderpaul said, "I can't control my selection in the team. I can do things under my control. When I was dropped I played cricket only in the Caribbean and now I have come back."
On whether he has got enough credit for being the most consistent West Indian batsman over the years, he said, "I think so, not sure but I think so."
He also praised the Indian spinners Pragyan Ojha, Ravichandran Ashwin and pacer Umesh Yadav.
"They (Ashwin and Ojha) are good spinners. They are competitive. He (Yadav) has good pace and is sharp though there was not much on the wicket for him," said Chanderpaul.