Legendary West Indian wicketkeeper Jeffrey Dujon on Monday said he admires Indian cricket captain Mahendra Singh Dhoni for not just his "efficiency" behind the stumps but also for his good leadership skills and utility with the bat.
Dhoni became the first Indian wicket-keeper to record 200 dismissals in Test cricket, surpassing Syed Kirmani's 198, on the first day of the opening Test against West Indies at Feroz Shah Kotla.
"I admire Dhoni for his efficient wicket-keeping and for his all-round skills. He can be a useful batsman and a good leader. He is an all-round package," he said.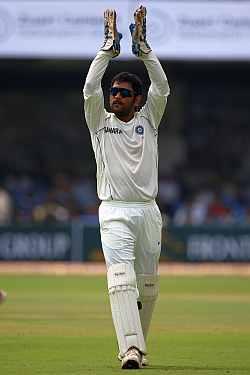 Dujon, however, said Kirmani was more of a specialist wicket-keeper while Dhoni is more of an all-rounder.
"Kirmani is a specialist wicketkeeper. Dhoni is efficient behind the stumps but more of an all-round package," he said.
He, however, said that modern cricketers have to be all-rounders and Dhoni fits well in the trend.
"In modern cricket, wicketkeepers have to do like this. They have to be all-round," said Dujon who is here as a commentator.
Dujon, who had kept wickets to the likes of Andy Roberts, Joel Garner and Malcolm Marshall, refused to rate the contemporary wicketkeepers.
"I don't believe in comparisons. The statistics will care of this. I would say that Dhoni is very efficient in whatever he does for the Indian team," he said.