It is tough to lead a squad that is not expected to win.
West Indies cricket is on a downslide for a couple of decades now, and the Caribbeans' winning something now comes across as a surprise more often than not. 
For the record, the West Indies have won just five Test matches in the last five years!
Not much was, therefore, expected from them when they landed in India for the three-Test series. Two matches later, they have expectedly lost the Test series and are staring at a first whitewash against India in their history.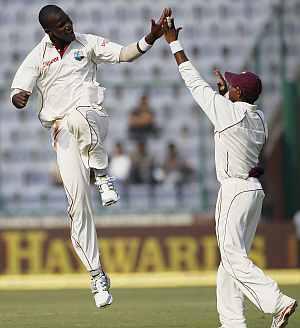 To his credit though, Darren Sammy was still able to find positives. The wry smile on his face is still intact even as he believes that the West Indies team is going forward contrary to what many would like to believe.
Asked what his first Test series as captain in the subcontinent has taught him, Sammy was categorical.
"I've been asked this question right from the time I stepped in India. I think it's my mental toughness," he said, before proceeding to elaborate his point.
"I'm leading a side that nobody expects to go out there and do well," he explained, adding, "Therefore, I was quite happy that while batting at Eden we scored the highest second-innings total by a West Indian team (463) following on.
"To get 400-plus in the second innings is good to see."
The captain was equally categorical about what his team lacks.
"We just have to be more consistent, especially with the bat," admitted Sammy.
"If we bat well in one innings, we don't do so in the second," he added, referring to the two innings of the second Test in Kolkata.
Sammy also went a step ahead and offered a solution, which he believes can ensure better results for the West Indies.
"Throughout the series, when we competed we've shown we are on par with India," he explained, adding, "I'd like to see a scenario where (Darren) Bravo, (Kirk) Edwards, (Devendra) Bishoo and (Kemar) Roach come good for us and be consistent.
"I'm looking forward to be part of that consistency."