Mention his name and the first impression that comes to mind is that of an attacking batsman.
His success in the Indian Premier League further bolsters the belief.
Manish Pandey ensured his name in history books when he became the first Indian batsman to score a century in the IPL --  he scored an unbeaten 114 for Royal Challengers Bangalore (he has since moved to Pune Warriors) against Deccan Chargers.
However, the 22-year-old is also prolific run-scorer in the longer versions. His records in domestic competitions establish his credentials as a reliable batsman, one who is capable of scoring big.
Manish was the top scorer in the 2009-10 Ranji season -- with an aggregate of 822 runs in nine matches (@ 63.00) -- even as his team (Karnataka) made it all the way to the final.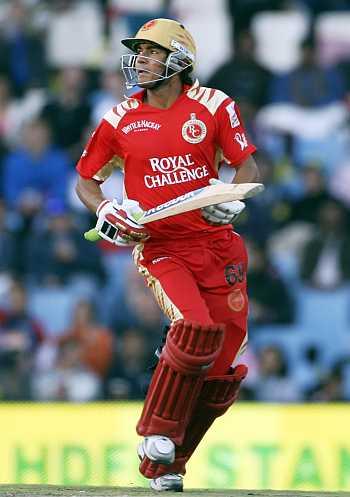 The young batsman followed it up with an equally impressive show last year, notching an aggregate of 629 in eight matches (@ 44.92) to finish as the fifth in the list of scorers.
And after a slow start this season -- he managed 58 in the opening game against defending champions Rajasthan and just four against Railways -- Manish came into his elements with a spectacular 200 not out against Mumbai this weekend, helping his team take three crucial points in what was an away game and move up to the top of the table.
It was his first double hundred in first class cricket. A memorable one at that.
"It's always nice to score runs against good sides," gushed the batsman.
"It gives a lot of confidence to any batsman and that is the boost that I got," he added.
Manish has had a history of doing well against Mumbai.
Who can forget his epic 144 in the 2010 final in Mysore that almost won the title for Karnataka (Mumbai eventually scraped through by six runs).
The double hundred at the Brabourne bolstered his already impressive record against the 39-time champions.
Asked what is it that makes scoring runs against Mumbai special, Manish's answer was pertinent.
"They have really got good bowlers," he said.
The batsman also expressed his satisfaction at achieving big scores on a consistent basis, something he believed would expedite his dream of playing for the national team.
 "When you get big runs, say 150-plus, it counts a lot," explained Manish.
"It is up to you to make a decision and try to convert those 60s and 70s into a big score, make a name and play for India as soon as possible," he added. 
Considering the manner in which he is performing at the domestic level, it won't be long before the selectors take note of his efforts.