Rebel West Indian cricketer Chris Gayle's hopes of making it to the Test squad for the three-match series against India went up in smoke after a stormy meeting with WICB. 
Not only the Test series starting June 20, Gayle, in fact, has put his entire career in jeopardy after he declined the West Indies Cricket Board's request to retract the comments he made during a radio interview last month against it.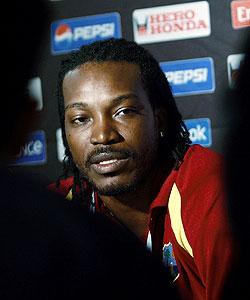 Gayle was accompanied by Dinanath Ramnarine, president of the West Indies Players Association (WIPA) and vice-president Wavell Hinds, while the WICB was represented by its CEO Earnest Hilaire, cricket director Tony Howard, head coach Ottis Gibson and manager Richie Richardson at the meeting that lasted for four hours on Wednesday night. 
A source privy to the developments inside said the meeting turned out to be so acrimonious that Ramnarine at one stage was close to assaulting Hilaire. 
The ongoing tussle between WIPA and WICB turned ugly before the start of Indian Premier League as Gayle, according to sources, wanted to commit himself to West Indies cricket only if the board was willing to compensate him for the money he was being offered in the IPL.
The money offered to Gayle by Royal Challengers Bangalore was USD 800,000. 
Another major issue was that the WICB did not consider Gayle for captaincy because he did not sign the retainer contract with the board, while the player felt his not signing the contract shouldn't have affected his captaincy. 
The board, however, was adamant that it is important for a player to be part of the retainer contracts to be named captain. 
Gayle was not immediately available for comments while Ramnarine too left the meeting in a huff. 
During the meeting, WIPA wanted the WICB to facilitate the left-hander's return to the national team and to treat the comments made by the batsman in an interview to a Jamaican radio channel as his personal opinion.
WICB, on their part, believed that Gayle had overstepped his brief and needed to retract his statement to restore the board's dignity. 
No further meeting between Gayle and the WICB is scheduled as of now.