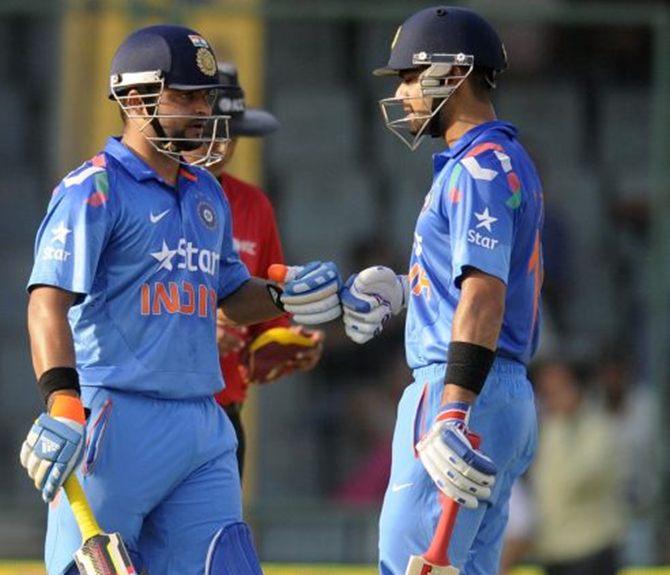 Suresh Raina (left) and Virat Kohli during their fourth-wicket partnership in the second ODI against the West Indies. Photograph: BCCI
Despite staging a remarkable recovery to draw level 1-1 in the five-match series, India captain Mahendra Singh Dhoni was unhappy with his team's showing in the second One-Day International against the West Indies, in Delhi, on Saturday.
He feels there are "few things missing" in India's game and the boys need to "pull up their socks".
"We have not played to our potential. I feel quite a few things are missing. We have to pull our socks up. This game is a crucial eye-opener for us. We are on the winning side, but we could have lost this," said Dhoni, at the post-match presentation ceremony, after India beat the West Indies by 48 runs.
He was of the view that it was difficult to get to 263, but they were 20 runs short of par-score.
"Quite difficult to get 263, but quite a few batsmen got off to a decent start. We lost two wickets close to the 40th over. That was very crucial. We were short by 20 runs because of that," he said.
Dhoni also seemed a bit relieved that Virat Kohli at least had some sort of form going his way.
"Virat is an important character in our team the way he bats; he got runs today which will definitely help him."
He was effusive in praise of Suresh Raina, who showed positive intent during his innings of 62.
"Raina batted excellently, has carried his form from the Champions League T20. They have to convert these starts into bigger innings."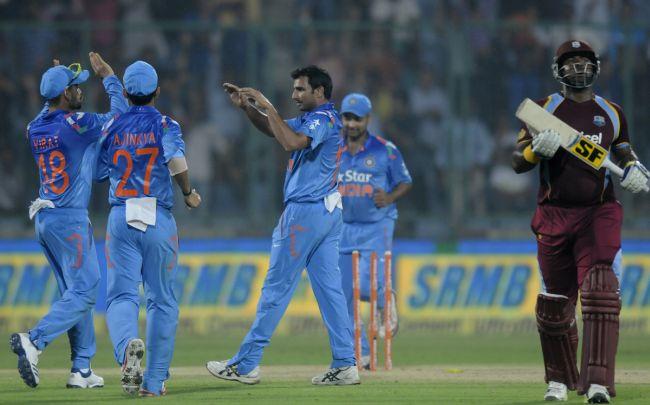 Mohammed Shami celebrates after castling Dwayne Smith. Photograph: BCCI
Dhoni reckoned that man-of-the-match Mohammed Shami used the reverse swing to good effect despite there being dew.
"There was a bit of reverse swing; he got us vital breakthroughs. Amit Mishra's contribution was crucial again as he was willing to flight the ball. Once the ball gets wet or there is no turn, Jadeja does not flight the ball. That is why I used Mishra more," Dhoni reasoned. West Indies skipper Dwayne Bravo was at his wits end to explain how they lost their way after cruising along at 170 for two in their pursuit of 264.
"Thought at one point we had it in the bag. We need to give credit to India. Jaddu (Jadeja) bowled really well. Mahi (Dhoni) and the boys put pressure on us. We batted well upfront but lost wickets at crucial times. We lost our way in the middle and we definitely have to work on that."
On a lighter note, Bravo was asked why Dhoni didn't hit his slower deliveries. He cheekily replied: "I am still waiting for him to hit me. At CSK (Chennai Super Kings)(nets), he always hits my slower deliveries."