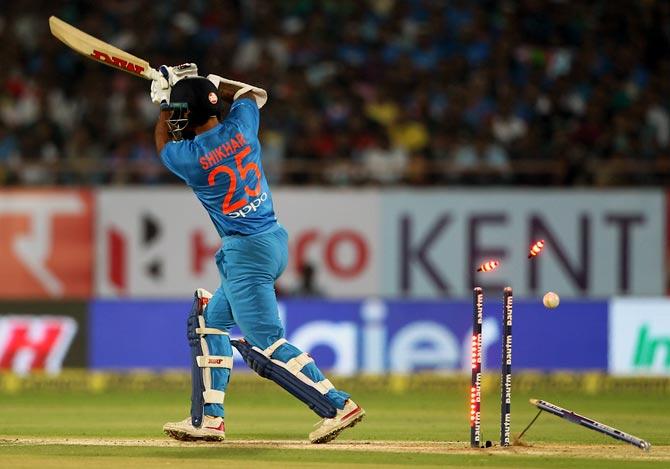 IMAGE: Shikhar Dhawan is bowled by Trent Boult in Saturday's second Twenty20 International in Rajkot. Photograph: BCCI
Captain Virat Kohli praised New Zealand for their impressive effort while admitting that his batsmen "were not good enough" on the day as India lost the second T20 International in Rajkot by 40 runs, on Saturday.
"Eventually, we were not good enough with the bat. When you are chasing 200, all the batsmen need to chip in, or one batsman has to keeping going at a 200 strike-rate.
"Tried to do my best. MS (Dhoni) was very good at the end, but we were left with a very difficult task. It happens to a lot of batsmen; sometimes you are in good form, but you don't get enough balls," said Kohli, at the post-match presentation ceremony.
"I thought New Zealand were really good with the bat early on. We didn't take our chances; yes, but, at once stage, they were looking to get 235-240 and credit to (Jasprit) Bumrah and Bhuvi (Bhuvneshwar Kumar) to pull things back."
Hardik Pandya seems to have gone off the boil since the back end of series against Australia, but the skipper defended the talented all-rounder.
"We back our batsmen, though. We back Hardik, and it's just a little glitch. After 13-14 overs it gripped a bit. But we have no excuses; we weren't good enough with the bat. There wasn't any kind of dew. The ball got scuffed up [to help it turn]."
Man of the Match Colin Munro said: "A few chances (dropped catches) went my way and that's T20 cricket. Taken a while; I was here in the 'A' trip. Felt good with the bat but kept getting out. I love batting at the top of the order."
He said he spoke with batting coach Craig McMillan about his plans.
"I was talking with McMillan, and the times when I have premeditated is when I've been trying to do too much. So I have just got to stay still and react to the ball."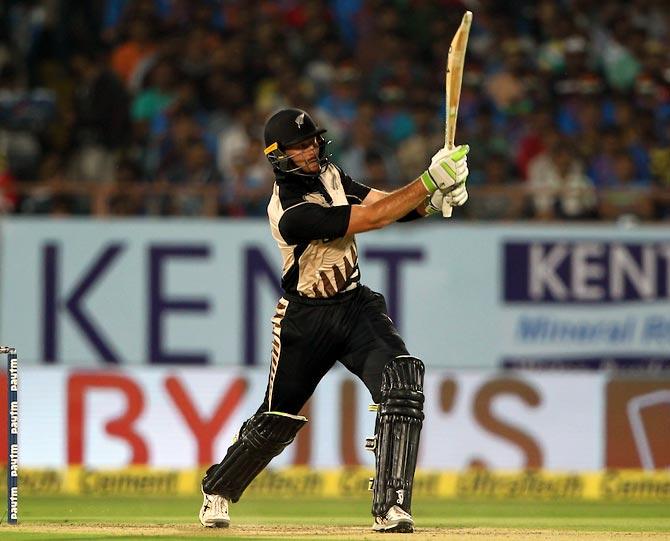 IMAGE: Martin Guptill in action during Saturday's second Twenty20 International in Rajkot. Photograph: BCCI
Black Caps skipper Kane Williamson was satisfied that they could turn tables within one match.
"I guess it was a contrasting performance from the last game. An improved performance on all sides; we need to keep doing this to beat India here and going on to the next game we need to repeat this," Williamson said.
He lavished praise on Munro for his brilliant century.
"Great partnership up at the top and, obviously, Munners getting a hundred was fantastic. When a batsman gets that many runs, the team will always get a big total.
"(Martin) Guptill and (Tom) Bruce gave good support and the bowlers did really well to defend it. Whenever you watch a player similar to you perform, you want to emulate them and our two spinners did really well, they consistently came in to bowl tough overs and they bowled very, very well."