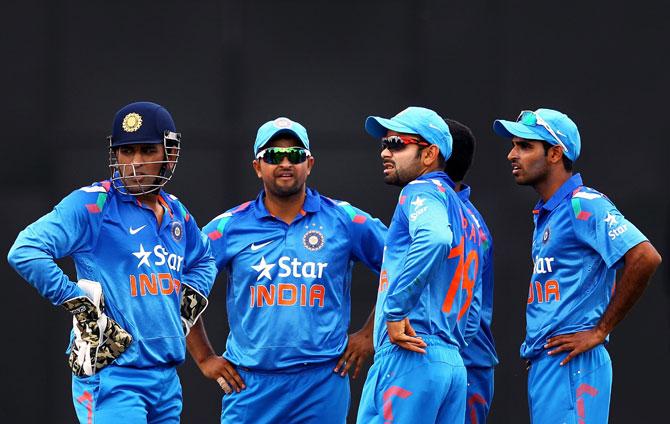 Indian players Mahendra Singh Dhoni, Suresh Raina, Virat Kohli and Bhuvneshwar Kumar wait for a decision. Photograph: Getty Images
Looking to rewrite history by beating arch-rivals India in the upcoming World Cup, captain Misbah-ul-Haq promised Pakistan fans that the national team will play its best cricket in the 50-over showpiece event and make them proud.
- Schedule: ICC Cricket World Cup 2015
India and Pakistan open their respective campaigns against each other on February 15 in Adelaide, a day after the mega event kick-starts and that makes the clash a mouth-watering one.
"We know how important this match is and we are going with a clear mind that we want to change history and beat India in a World Cup," Misbah said, while addressing the media at the national cricket academy in Lahore before the team left for the airport to embark on their World Cup campaign.
"We are focused for the match and the players are going to play with lot of passion and commitment to try to win the match," he added.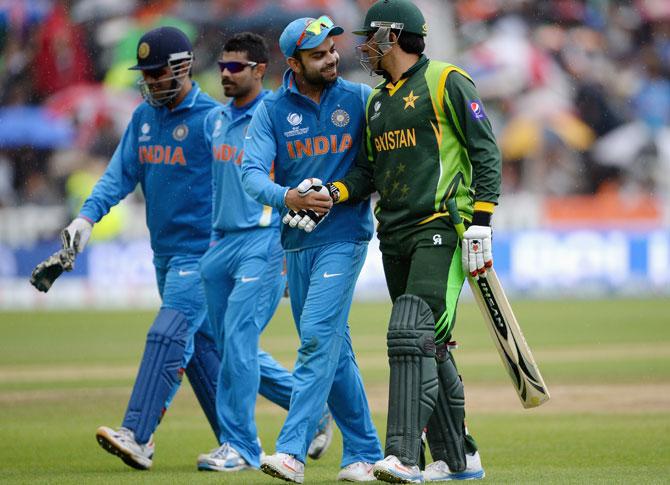 India's Virat Kohli congratulates Pakistan's Misbah-ul Haq during a match. Photograph: Getty Images
Misbah also said that the team is ready to give its best shot at the title they last won in 1992.
"In a few hours we will be leaving for the World Cup and I think we have our best possible preparations for the World Cup and we are going with a positive mindset and try to win every match and the World Cup.
"We have only one thing in mind that is to play our best cricket in this event because we know how closely the World Cup is followed by everyone and the expectations attached with our team," he said.
Yet to recover completely from a hamstring injury, Misbah said he has told the players to play fearless cricket.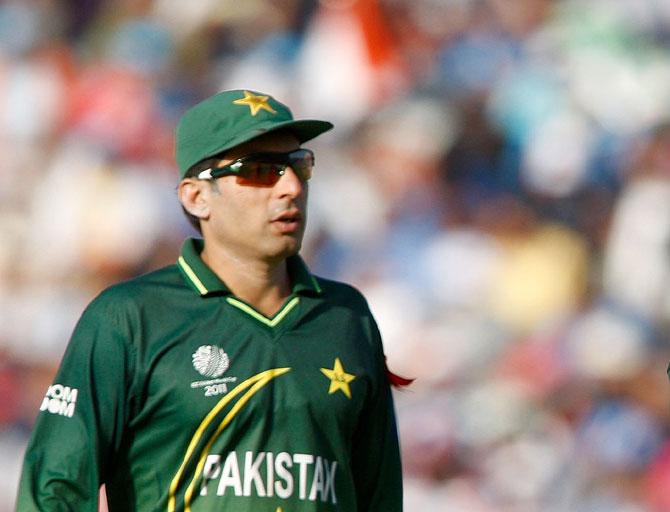 Pakistan captain Misbah-ul Haq. Photograph: Getty Images
"Every team has the backing of its nation and it comes well-prepared to win the World Cup, so it is going to be a tough challenge; but I think we have the resources to meet this challenge," he said.
Pakistan is slated to play two warm-up matches and two One-Day Internationals in New Zealand before moving to Australia and Misbah, who has already announced the World Cup will be his final one-day international event, said the team would have nearly three-and-a-half weeks to acclimatize to the conditions in the host countries.
"We are going there nearly three-and-a-half weeks in advance to acclimatise and get used to wickets and that is good enough; we have the resources to deal with every situation."