West Indies cricket captain Darren Sammy said his bowlers gave away 20 runs too many which allowed India to raise what proved to be a winning total in their one-off Twenty20 match in Port of Spain on Saturday.
Chasing 160, West Indies went down by 16 runs, their first T20 loss to India, yesterday and Sammy admitted his side lacked belief to rotate the strike and play spinners adequately.
"We gave away 20 runs too many. We allowed them too many boundary-balls," lamented Sammy
"We gave them over 70 runs in the final five overs," he said.
But batting was no better and no less than 50 balls or 8.2 overs of the West Indian innings were dot balls.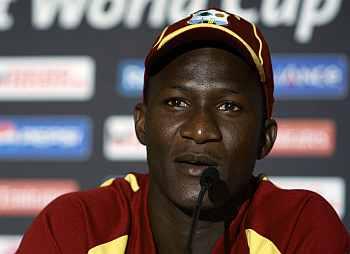 "When chasing such a competitive total, there is no way you can play so many dot balls and still expect to win," he said.
The obvious inference was the inability of batsmen to rotate strike, a malaise which has undone the West Indians many a times.
"We hope it would improve. We do practice a lot but then it comes down to belief in the middle. We now have batting coach in Desmong Haynes and I expect things to improve," suggested Sammy.
Sammy's ire was also reserved for the pitch in the middle where the ball turned square and it played right into hands of three Indians spinners who conceded only 75 runs from their combined 12 overs.
"We have been having this issue with the pitch right through, even against Pakistan. Our coach Ottis Gibson has drawn attention to it but then it is not in our hands," he said.
Sammy hoped the situation would improve in the one-dayers, which start tomorrow, once proven players such as Kieron Pollard, Dwayne Bravo and Ramnaresh Sarwan returned to the side.
"We have won the last two one-dayers of ours so there is a bit of momentum. The return of these stars would obviously be a help," he said.
Ironically, while West Indies made a late rally to match the Indians' total, mercurial Chris Gayle was spotted sitting in the Trini Posse stand and enjoying the match.
He is in town for the annual awards ceremony of the West Indies Players Association (WIPA) but what Sammy must have wished was his presence in the middle too.