'The kind of tracks we would have wanted to bowl on before going to South Africa haven't been provided'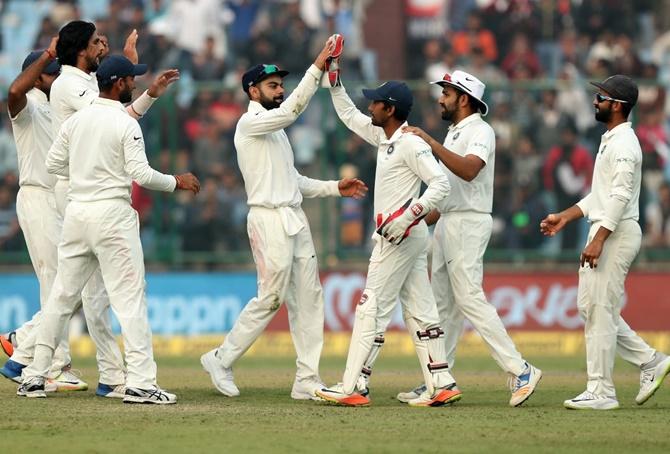 IMAGE: Virat Kohli celebrates with Wriddhiman Saha. Photograph: ICC/Twitter
The pitches in Nagpur and Delhi have not been exactly what the team management wanted ahead of the South Africa tour but Mohammed Shami is happy that barren tracks like the one at the ongoing Test in Kotla have given him a chance to test his fitness while bowling long spells.
The bowlers had to toil hard for the entire day as Sri Lanka ended the day three at 356/9 in reply to India's massive first innings score of 536/7 declared.
"The kind of tracks we would have wanted to bowl on before going to South Africa haven't been provided. So it didn't go as per our plans. But it is a good thing that on these kind of pitches, you need to work even harder as a fast bowler. These tracks test your fitness as you get to bowl long spells," Shami said at the end of the third day's play.
Having bowled 24 overs in the innings so far for two wickets, Shami is happy that it's a departure from the usual template of spinners getting to bowl maximum overs.
"If you see, fast bowlers have little chance to bowl long spells especially in India. It is a rarity that fast bowlers are getting to bowl more than 25 or 30 overs. Earlier it used to be at the max -- 12 to 14 overs -- but if you see in the past one and half years, we are continuously sending down 20 to 25 overs.
"You get to show your skills also. As far as bowling more overs are concerned, the more you bowl, the better you get," said the 28-year-old, who plays for Bengal in Ranji Trophy.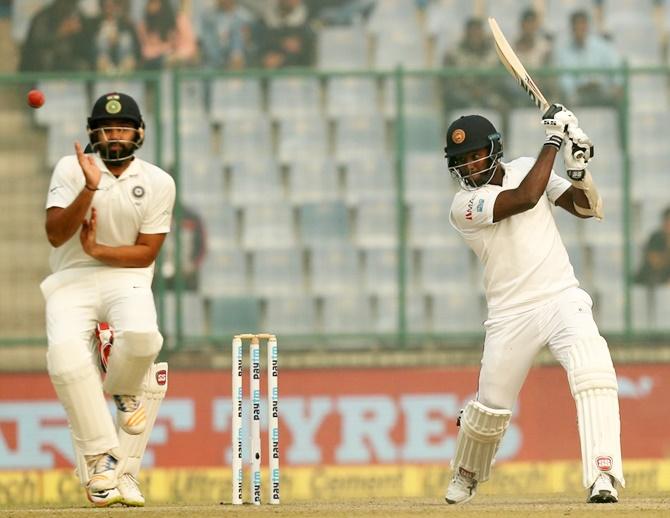 IMAGE: Dinesh Chandimal hits a shot. Photograph: ICC/Twitter
There was no reverse swing on offer, said Shami.
"The ball was holding onto the pitch. I didn't find any reverse. Because, the pace at which we (him and Ishant Sharma) bowl, had there been reverse, we would have finished their innings today itself."
There were four catches dropped off his bowling but Shami defended the fielders saying that one needs to move on.
"Fielders are not machines that they will grab anything that comes their way! Yes, you might get angry when a catch is dropped but as a unit, we are playing round the year for the country. It's part and parcel of the game, you have to ignore and move on."
On slip fielders dropping catches, Shami said: "It's after a long time this unit has dropped so many catches. You need to take it in your stride and move on. We need to work hard and improve."
With two days left and India batting on Tuesday, Shami hopes that there are full chances of enforcing a victory.
"We have full hope that whatever remains in this match, we can force a result. We will put in effort till the last delivery and let's see what kind of condition we find in the next two days. We will work on it," he said.