'This was a situation where we batted them out of the game'
'For a side coming here, it's not an easy place to play, especially if the home team is playing its best cricket as a unit'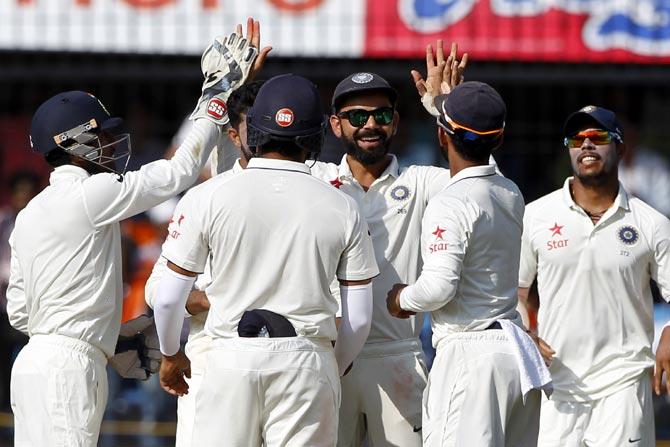 IMAGE: India players celebrate the wicket of New Zealand's Jimmy Neesham on Day 4 of the 3rd Test in Indore on Tuesday. Photograph: BCCI
Virat Kohli is happy that his bowlers have been able to decimate a quality New Zealand side on tracks which are not exactly rank turners.
- India thrash Kiwis by 321 runs to complete series clean sweep
"We knew before the series that people will start talking about pitches. We knew pitches will not be dry as monsoon is everywhere and especially in Kolkata, which is a newly-laid wicket. We knew our abilities and we knew we should be good enough to do well on any surface and against any team," Kohli said at the post-match conference.
Kohli believes that a right step has been taken in ensuring that bowlers are not overtly dependant on spin-friendly tracks.
"That's the right step we have taken. We believe in our skill and not believe in creating conditions or atmosphere which might suit us partially. We wanted to express ourselves. We finished two games in four days and that gives us a lot of confidence," said Kohli.
He also said the team looked to bat with more intent in the second innings.
"We tried to play positive cricket in the second innings and tried to give the bowlers as much enough overs to bowl and, secondly, enough runs to keep expressing themselves and not set defensive fields.
"This was a situation where we batted them out of the game. We could express ourselves best and give our bowlers time to bowl out the opposition. The last two Tests played out nicely for us and that's why we could finish both the games in four days."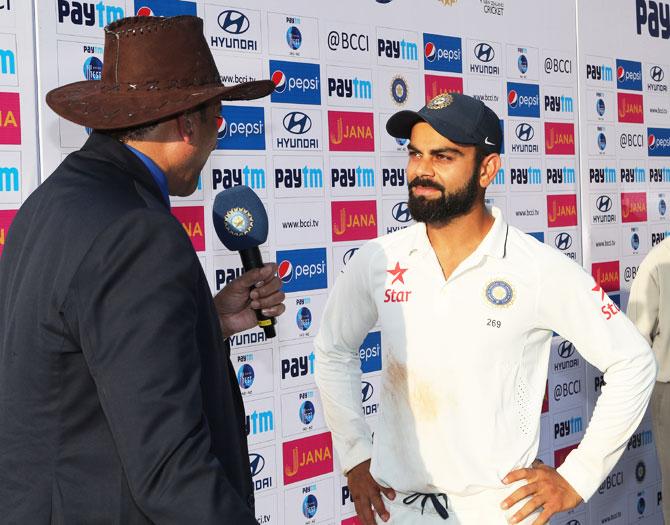 IMAGE: Virat Kohli speaks to Ravi Shastri at the post-match presentation ceremony. Photograph: BCCI
Kohli attributed small but important contributions from team members at different stages as key factors in the series.
"It's a team sport. For me, the most important points in the series were (Ravindra) Jadeja's batting in the first Test (at Kanpur), (Wriddhiman) Saha's batting in the second and (Mohammed) Shami's spell in the second innings of the second match. They matter a lot for us as a team. We focus more on smaller contributions. You (media) write about those who are performing (big), but the (small) contributions from the entire team is important," he added.
Kohli empathised with New Zealand, who were soundly thrashed in every game, and said the Indian team had bounced back from pressure situations they were put in by the visitors at stages during the rubber.
"For a side coming here, it's not an easy place to play, especially if the home team is playing its best cricket as a unit. It's very difficult to find out areas so that you can exploit and get back. We make it difficult for the opposition. They are a quality side as (New Zealand captain) Kane (Williamson) said they have a lot to learn just as we do when we visit New Zealand. Obviously, you want to go out and do well," he said.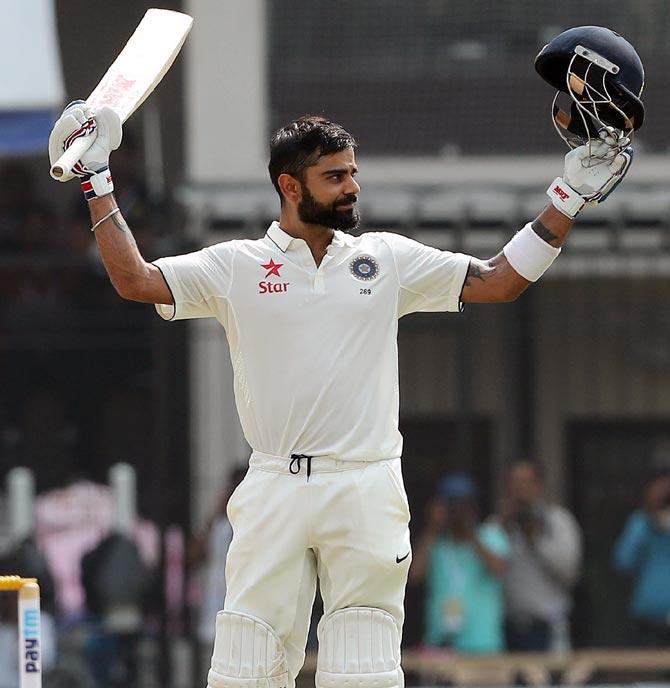 IMAGE: Virat Kohli celebrates after scoring a double century. Photograph: BCCI
Kohli complimented the Black Caps for their effort.
"Honestly, they played very good cricket. They put us under pressure at times but we have come back from those situations and blocked that door for them," he pointed out.
Asked about not showing much emotions on field when making a classy and career-best 211, Kohli replied: "In the past I have made hundreds, but not big ones. So I have always been a bit disappointed with myself, that I could not convert them (to big scores), and maybe that I was getting satisfied after reaching the milestones.
"If you don't pay attention to milestones the crowd gets excited, the teammates appreciate but inside you should know what's your mindset. I wanted to go long, and you have to focus that way before an innings. You have to understand that if you're set, you have to play long. That was my mindset."
Virat revealed that he did not know Shami's daughter had been admitted to the ICU in a hospital in Kolkata when he played the game.
"On the field, he is not someone who comes out in the open expressing himself. I had no clue his daughter was in the hospital (during the Kolkata Test), he told me later. Skill-wise there is no doubt he is a top bowler and even on this wicket he created chances and so did Umesh (Yadav). He's a very likeable character."
Kohli also had a word of praise for the crowd at the Holkar Stadium which held its first ever Test game.
"It was a good crowd 20,000- 22000 (each day). We expected that as this was the first Test (here). It was a good wicket that played well for first two days and then allowed bowlers to come into picture. Test cricket is a good format. I am happy (with the turnout)."