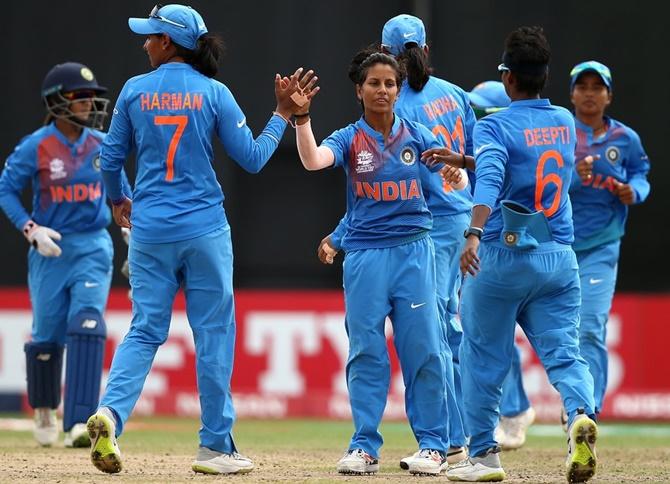 India captain Harmanpreet Kaur said that her team is bound to perform well because of the quality in the side which was proved during their thumping 48-run win against Australia in the final group league encounter of the ICC Women's World T20.
India were already in semi-finals after winning their first three matches but didn't let the intensity down against the formidable 'Southern Stars' in an inconsequential last group league encounter.
"When you have a good team, you have to perform well," Harmanpreet said at the end of the match on Saturday.
After a below-par fielding performance against Pakistan, Indian women were excellent against Australia.
"I am very happy with the (performance from the) girls. We worked very hard and today, we fielded well. I am proud of the girls. Hope the sort of partnership I had with Smriti (68 in 7 overs) can keep coming."
Opener Smriti Mandhana, who finally converted a start, got 83 off 55 balls and thanked Veda Krishnamurthy for insisting on a DRS when she thought the she was gone.
"First three matches I got starts but couldn't convert it. So I just wanted to score big today," said Mandhana, adding, "Veda insisted on the review, and thanks to her we got 20-30 runs extra."
Harmanpreet's deputy also echoed her skipper's sentiments that both bowling and fielding were top notch against the Aussies.
"The way we bowled and fielded today was the best of the four games, but batting-wise the performance against New Zealand was better."
Team's youngest member Jemimah Rodrigues said that endeavour will be to keep up the momentum in the upcoming semi-finals on Novermber 23.
"I think it's important not just because it's Australia, but for ourselves and our team, because we've got the momentum," Rodrigues was quoted as saying by ICC website.
"So we need to keep that momentum, keep doing the things, don't focus mainly on the results. So I think it plays a huge impact on our team and I think we look forward to it, but not get carried away and try to do even better in the semi-finals," Rodrigues said.
Rodrigues said that Harmanpreet's epic 171 during last year's ODI World Cup also came up for discussion during the team meeting on the eve of the Australia match.
"Yes, (that knock) was definitely discussed (before the match)," revealed Rodrigues. "In our meetings. it's always good to remember the good stuff we've done. And it plays an impact and motivates each other. So we have spoken about that."