Shane Watson celebrated his return to international cricket with a sparkling innings of 122 to drive Australia to a 39-run victory over West Indies in the third one-dayer and an unassailable 3-0 series lead.
The 31-year-old opener's 111-ball knock on Wednesday helped Australia to 329 for seven in their 50 overs and West Indies flirted with reaching the big victory target before James Faulkner (4-48) polished them off for 290 with 15 balls to spare.
Darren Bravo top scored with 86 for West Indies, who will be playing only for pride in the remaining two matches in Sydney and Melbourne after a third emphatic defeat.
It was the first one-day international ever played in the nation's capital and the Manuka Oval track certainly gave the batsmen plenty of opportunity to score runs.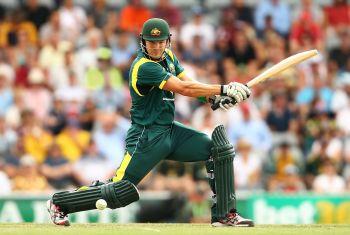 Watson, who missed much of the domestic season through injury, reached his seventh ODI century in 102 balls and then conjured up two fours and two sixes in the next nine balls before holing out to Kieron Pollard at backward square leg.
"I've been dreaming of that for the last four weeks," Watson, one of whose sixes was measured at 114 metres, said in a televised interview.
"It was one of those days that you dream of when even from the first ball it feels like everything's coming off the middle of your bat. I'm just so excited to be out here and playing."
Phil Hughes offered able support with 86 runs before being caught behind off the bowling of Darren Sammy, while the innings of Glenn Maxwell (4) and George Bailey (44) were both ended by stunning leaping catches from Pollard on the boundary.
West Indies started their run-chase at a slow pace but soon picked up with typical flourish to match Australia's run rate at around the 30 over mark.
Left-arm seamer Faulkner made two crucial interventions, however, the first when he bowled dangerman Chris Gayle (2) and Darren Bravo in the space of four balls to leave West Indies at 215-5.
He returned to end the match by claiming the wickets of Sunil Narine (1) and Darren Sammy (8) in three deliveries. All four of his victims in the match were bowled.
Scorecard:
Australia innings
S. Watson c Pollard b Roach 122
A. Finch c Thomas b Sammy 38
P. Hughes c Thomas b Sammy 86
M. Clarke c and b Pollard 15
G. Bailey c Pollard b Narine 44
G. Maxwell c Pollard b Narine 4
M. Wade not out 4
J. Faulkner b Bravo 2
M. Johnson not out 8
Extras (b-1, w-3, nb-2) 6
Total (7 wkts; 50 overs) 329
Fall of wickets: 1-89, 2-201, 3-242, 4-284, 5-299, 6-317, 7-321
Bowling: Roach 9-1-72-1, Russell 5-0-41-0, Sammy 8-0-49-2, DJBravo 7-0-39-1, Narine 10-0-55-2, Gayle 5-0-36-0, Pollard 6-0-36-1.
West Indies innings
K. Powell c Wade b Maxwell 47
D. Thomas c Hughes b McKay 19
Darren Bravo b Faulkner 86
Dwayne Bravo b Starc 51
C. Gayle b Faulkner 2
K. Pollard run out 9
A. Russell c Wade b McKay 43
R. Sarwan b Johnson 12
D. Sammy b Faulkner 8
S. Narine b Faulkner 1
K. Roach not out 1
Extras: (lb-4, w-6, nb-1) 11
Total (all out, 47.3 overs) 290
Fall of wickets: 1-54, 2-81, 3-195, 4-214, 5-215, 6-234, 7-264, 8-281, 9-289
Bowling: McKay 10-1-62-2, Starc 7-0-50-1, Johnson 9-1-59-1, Faulkner 8.3-1-48-4, Maxwell 10-0-44-1, Clarke 3-0-23-0
Photograph: Mark Nolan/Getty Images