Former team manager Sunil Dev makes stunning claims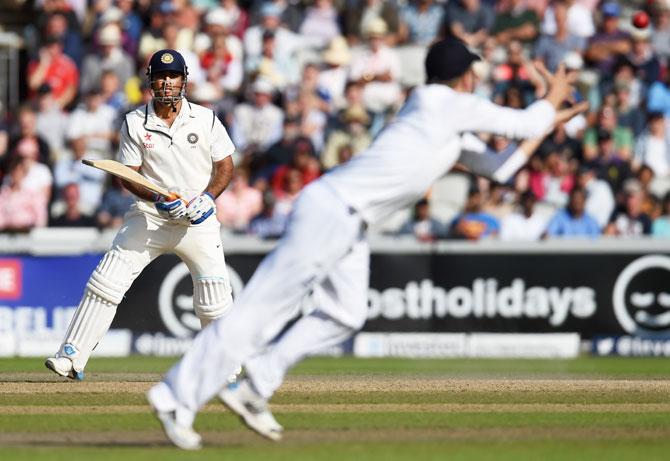 IMAGE: England fielder Gary Ballance prepares to catch India batsman Mahendra Singh Dhoni during Day 3 of the fourth Investec Test between England and India at Old Trafford, in Manchester, on August 9, 2014. Photograph: Stu Forster/Getty Images
The secretary of the Delhi and District Cricket Association and former team India manager Sunil Dev has revealed that the fourth Test between India and England, which was played in Manchester in 2014, was fixed.
- Match Report: India vs England, 3rd Test, Old (2014)
Dev was caught making the revelations in a sting operation conducted by a Hindi daily newspaper.
He said Mahendra Singh Dhoni chose to bat first in cloudy conditions because the match was fixed, insisting the skipper's decision came as a surprise to the team management as they had decided to bowl first in a team meeting.
The 67-year-old, who was the manager of the Indian team on that tour, claimed he had informed the then president of the Board of Control for Cricket in India, Narayanswami Srinivasan, about it, adding that he (Srinivasan) appreciated the information but did not feel the need to make it public.
Dev further slammed the BCCI, saying Indian cricket's governing body does not bother about these things as they had not reacted yet on the issue.
The Manchester Test ended in just three days, India losing the match by an innings and 54 runs.