Did Mahendra Singh Dhoni desert a sinking ship or was it a courageous decision to quit in the middle of a series?
Mahendra Singh Dhoni leads his team mates onto the field during day one of the third Test match between Australia and India in Melbourne. Photograph: Scott Barbour/Getty Images
There have been been mixed reactions to Dhoni's sudden retirement from Test cricket after the third match in Melbourne, who according to the Board of Control for Cricket in India, wants to 'concentrate on ODI and T20 formats.'
When Dhoni took over the India captaincy, he oversaw the transition period in Indian cricket as some of the big names were gradually phased out and youngsters brought in. Virender Sehwag, Gautam Gambhir, Harbhajan Singh and Zaheer Khan were left out after a few failures and frustratingly witnessed some of their young replacements getting countless opportunities to establish themselves. But that is how Dhoni operated -- if he believed in a player he backed him to the hilt.
- India's string of away Test defeats a blot on Dhoni's captaincy record
Though he is regarded as one of the best Indian captains in the shorter format, having won both the World T20 and the ODI World Cup, his leadership in the longer format was a big question mark, especially away from home.
That he was allowed to continue after two successive whitewashes in England and Australia in 2011-12 showed that he enjoyed infinite backing of the top bosses in the BCCI.
Dhoni had a free reign during his tenure as a skipper in terms of team selection, pitches for home games among other things, a luxury not fully enjoyed by his predecessors. One theory is that the selectors would have found it hard to justify his extension as the Test captain after losing in Australia, while Dhoni, on the other hand, didn't seem keen to continue as only a player with no authority which would also see him take orders from his junior team mates.
Also, the right-hander's limited contributions with the bat in Tests seems to have played a part in him giving up on the longer format completely.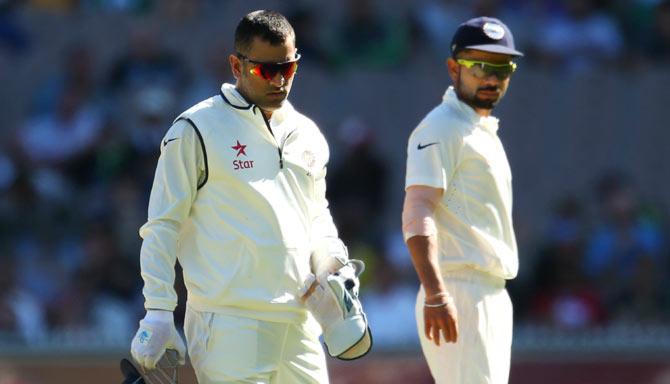 Mahendra Singh Dhoni (left) with Virat Kohli during day one of the third Test match between Australia and India in Melbourne. Photograph: Scott Barbour/Getty Images
Dhoni is labelled as one of the best finishers in limited overs cricket but his retirement was one rare occurence when the Jharkhand right-hander gave up without fighting till the end.
While some former cricketers and experts have praised his decision, others have come down hard on him for his untimely decision, which they believe shifts the focus away from team's preparations.
Sunil Gavaskar, as expected, was full of praise for Dhoni's decision as he believes he felt Kohli was ready to take over the reins. "Dhoni knew Virat Kohli was ready to step in and therefore his decision is not surprising. It just got a little too much for him. There were huge expectations, so they were putting a lot of strain on him. The overseas defeats and seeing the team concede 500 runs and bowling 100 overs in almost every Tests took a toll on his mind also. I have always said that a captain is as good as the team," he told NDTV.
- 'Retirement from Test cricket won't affect Brand Dhoni'
And it was not surprising to see his former team mate and current team director Ravi Shastri singing in the same tune. "It was an unexpected decision no doubt, but a courageous one. In my esteem Dhoni has gone up by miles. He hasn't waited to complete 100 Tests and all such pointless statistical stuff. He didn't want any farewell fanfare. That shows his character. He's different and quite remarkable," he was quoted as saying by ESPNCricinfo.
Former team mates V V S Laxman and Sourav Ganguly believe Dhoni could have contribute as a player for the next few years and looked to play a role in India's revival in Tests.
"But personally, I feel he could have stayed on for another 2-3 years with India playing a lot of Tests at home next year, and he could have again given a shot at getting India back to top position," Laxman told NDTV.
"I feel the decision to give up captaincy was right, though I think the decision not to play Test cricket is an incorrect one," Ganguly wrote in the Hindustan Times. "I have been in this situation before and I can bet it would have allowed Dhoni to play freely and do justice to his talent. We would have seen a rejuvenated Dhoni for the remaining part of his Test career as he still had cricket left in him," Ganguly said.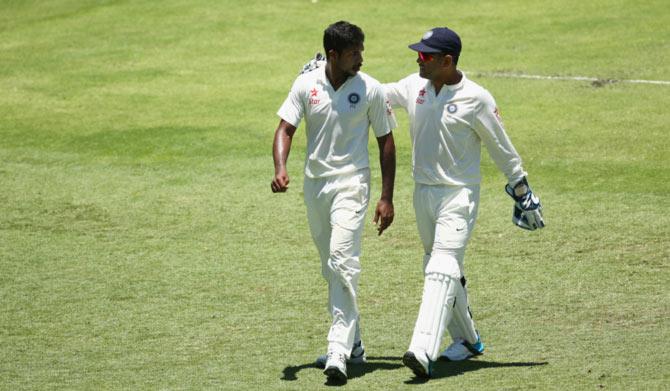 Mahendra Singh Dhoni (right) speaks to fast bowler Varun Aaron. Photograph: Cameron Spencer/Getty Images
Former selector Mohinder Amarnath, who had called for Dhoni's axing as captain in 2011-12, once again came down hard on the right-hander.
"I felt that Dhoni was simply not doing enough justice to his talent and also was not adding enough value to the Test team in the last two years. You really can't control the game or lead from front in a Test if you are batting at No. 7. Gradually, his captaincy lost all flair and aggression, especially abroad. This decision gives a hint that he finally gave in to the intense scrutiny that his captaincy had been subjected to for the last couple of years," Amarnath wrote in his column in the Times of India.
- Tributes to Dhoni: 'Valiant while you led. Valiant in your departure'
Television actor Tom Alter, who is also a huge cricket, fan believes Dhoni turned his back on Indian cricket and he should be banned from playing for India again.
"Mahendra Singh Dhoni chooses to exit before he is removed -- and with arrogance, such blind faith in his image. He should be banned from representing India ever again. He has not only broken his contract, he has broken a sacred bond with those of us who truly love Indian cricket and he does not give a damn. Why? Because he is the corporate favourite, the boss' and the bosses' favourite, and for them losing or winning is not important, it is all 'brand' and money and such total and utter rubbish. And former players sing his praises, and BCCI lackeys sing his praises, and only a few brave journalists speak the truth," Alter wrote in his column for Firstpost.
We would like to know what you think about Dhoni's retirement from Test cricket.
Do you believe Dhoni was justified in retiring in the middle of a series? Also should he given up captaincy and continued as a player till India found another capable wicketkeeper-batsman to replace him?