'The past few days I have found something ... I have found my hands which I am extremely excited about.'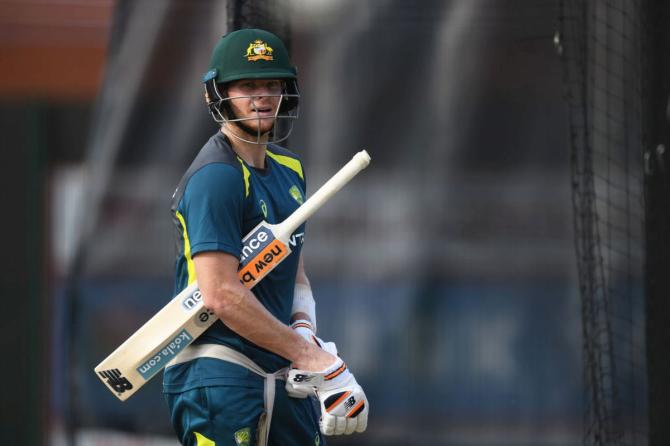 Australia batsman Steve Smith says a training breakthrough during a stint in isolation has helped him find his hands again and he is confident his Indian Premier League struggles are behind him as he prepares to face India on Friday.
Smith had a relatively quiet IPL in the United Arab Emirates, scoring 311 runs at 25.91 in 14 matches. He averaged 41.40 in the previous three years of the tournament.
The 31-year-old said he had hardly picked up a bat during the early months of the COVID-19 pandemic and then struggled on Australia's limited overs tour of England, where he scored 31 runs in three Twenty20 innings.
Smith's batting woes were a major concern for Australia, who are set to face India in six limited overs matches before the mouth-watering Test series.
But back in isolation in Sydney after returning from the UAE, Smith said he felt like he had found his rhythm and was striking the ball better and able to place it where he wanted.
"The past few days I have found something... I have found my hands which I am extremely excited about," Smith told reporters on Tuesday.
"It's just getting that feel of the bat behind my toe the right way, the way my hands come up the bat.
"But it just hasn't quite been right until two days ago. I found a little something and everything just clicked in.
"I had a big smile on my face after training the other day."
The smile will no doubt spread to the faces of Australian fans if Smith has indeed rediscovered his form.
He averages 84.05 against India in Tests and 60.46 in one-day internationals. The last time Smith said he had "found his hands" was ahead of the 2017/18 Ashes Test series, where he tore apart England's attack for 687 runs at 137.40.
"In big series I try and stand up and get the best out of myself," Smith said.
"Whether there is something more inside me that comes out, I'm not sure."
Ask how he has been so successful against India (7 Test hundreds and few more in ODIs), he feels it's the quality of the opposition that brings the best out of him.
"I have always started the first Test well against India and that gives me a bit of rhythm throughout the rest of the series. It's something to do with that," said the man with 26 Test hundreds and 7000-plus runs.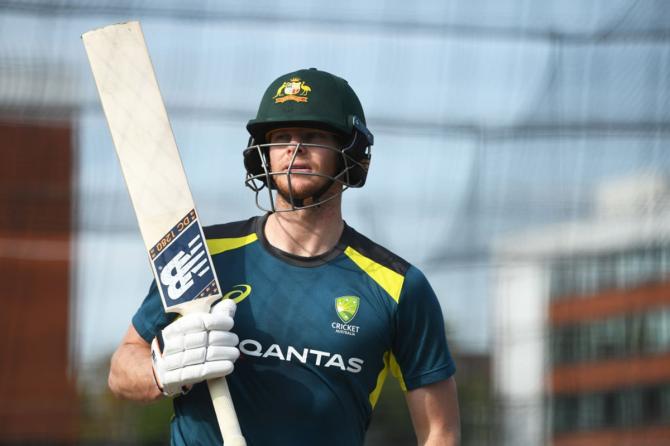 Smith admitted that during the IPL, trying to change his natural game affected his batting, something he realised after training with the national team.
"In the IPL, I got caught up with trying to be a bit more powerful and that's not my game. There are players in the world who can hit sixes at will and I am probably not one of those.
"It is about playing the cricketing shots and manipulating the gaps available. Probably, it (natural game) went away in the IPL from doing that. So now, I am keeping the thoughts clear that I will only hit the balls in my areas."
There has been some talk about short-pitched bowling, which has also been his problem. Smith said that only someone like New Zealand's Neil Wagner, with a specific skill-set, has been an issue for him.
"You are alluding to the short-pitched bowling approach that others might take (watching Wagner's bowling to him). That's kind of flattering if people think that's the only way to get me out as they have exhausted all other options," he said.
He then complimented Wagner for bowling consistently in the line between his rib cage and shoulder.
"Neil Wagner got the better of me in the last Test series (vs NZ at home). He has a set of skills that not many people can do and he does it for a long period of time while changing the pace of deliveries."
Smith agreed that constantly staying in a bio-bubble is not sustainable in the long run.
"I don't think bio-bubble is sustainable for a long period of time. We know mental health is important and we have seen guys being able to come out and talk about it. It is important to do that," he said.
He also avoided the sensitive issue of whether he would like to captain Australia again considering that Aaron Finch and Tim Paine are doing a good job. Smith was removed from the position after the 2018 ball-tampering scandal.
"I don't really have an answer at the present time and something I haven't given much thought about. Just backing up Tim and Finchy as they have done a good job during last two years.
"My job is to score runs at the moment. I haven't given it a great deal of thought and let's see what the future holds," he signed off.
The series will be aired on Sony Ten 1, Sony Ten 3 and Sony Six.