Shane Warne has done it again.
One of the most successful slow bowlers of all time, Warne has consistently shown since his retirement from international cricket in 2007 that he is also the master of a different type of spin.
-Should Shane Warne return for Ashes series?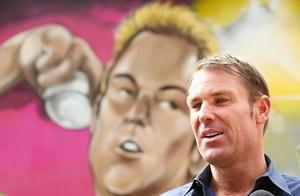 Two years ago, he had the Australian media in his thrall as he hinted at an international comeback in time to help Australia try and win back the Ashes from England.
This week again he said he could answer the call if his friend the Australia captain Michael Clarke asked him to don his baggy green cap for back-to-back series against England in 2013.
There is no doubting the 43-year-old's love for his country nor that he is constantly questioned about a possible return, but there is little doubt either that he knows how to guarantee back page headlines.
What could have been run-of-the-mill run up to his appearance in Australia's domestic Twenty20 "Big Bash" league, albeit against a team containing his fellow spin bowling great Muttiah Muralitharan, was transformed into a national debate.
The reality of what such a return would mean was laid bare when Cricket Australia said the man who took 708 Test wickets -- including 195 in 36 Ashes Tests -- would be expected to embark on a comeback in club and then first class cricket.
At a news conference on Thursday, the spin-bowling great "clarified" his earlier comments without quite shutting the door on a return.
"I'm not asking Michael Clarke. My quotes were all about if you ask me could I do it, I have no doubt that I could," Warne said on Thursday.
"But it's a big commitment. There's grade cricket, there's state cricket, you have to go through that process and hopefully get selected.
"For me it's nothing that I'm even considering.
"I'm bowling as good as I possibly have for the last five or six years. At this stage if you ask me do I want to make a comeback? No."
Part of Australia's problem has been that Warne, such a potent weapon in Test cricket, has never been convincingly replaced.
Current test spinner Nathan Lyon, one of a dozen players to have been tried out in the role over the last six years, took 3-169 in the lost third Test against South Africa earlier this week.
England will be going for a third successive Ashes triumph in the next European summer before heading to Australia for a second series around the end of the year.
Photograph: Quinn Rooney/Getty Images