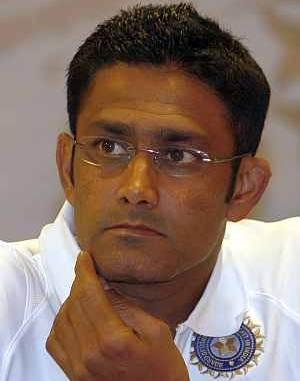 Former India captain Anil Kumble declined to comment on Ricky Ponting's observation on Sachin Tendulkar's role in the 'Monkeygate' scandal, saying people should wait for his book to know his version of the incident.
In his memoirs, titled The Close of Play, Ponting said he did not understand why Tendulkar vouched for Harbhajan Singh during the appeal hearing but did not say anything when match referee Mike Procter initially suspended the spinner for passing allegedly racial comments at all-rounder Andrew Symonds.
"Lot of things have been said since then. It's five years since that incident had happened (in Sydney). I don't want to comment on that now. It's important to move on. All of us have moved on. If you really want to know what happened, you have to wait for my book," Kumble, who captained the team during that series, told mediapersons on Friday.
Australian cricketers and administrators over the years have taken a swipe at Indian cricketers and administrators in their autobiographies.
Mathew Hayden had taken a dig at Sourav Ganguly for reportedly backing out of a Test in Nagpur when the hosts were forced to play on a green top. Hayden had sarcastically termed the former India captain's decision to back out as "suffering from green trackitis".
Adam Gilchrist, in his book, had termed Tendulkar's evidence in the Monkeygate scandal a "joke" and claimed there were differences in his testimony.
Kumble feels that it's not a bad idea to write a book since he has now decided that he won't be part of cricket administration anymore.
"Now that I have announced that I am not going to be a part of administration, I also have the time to write a book. Wait for the book to come out," Kumble said.
Image: Anil Kumble