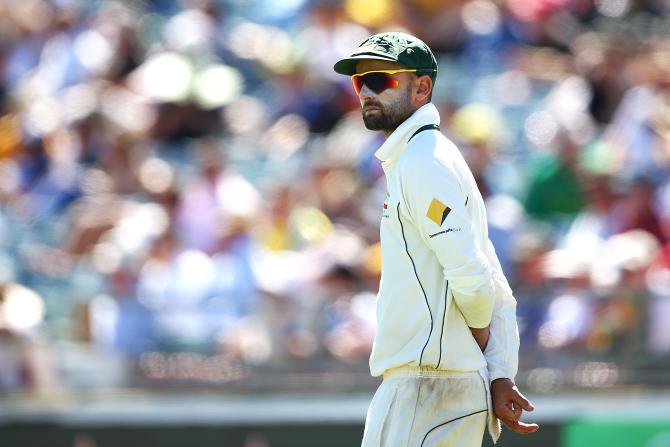 IMAGE: Australia's off-spinner Nathan Lyon was reduced to a mere spectator for most of the first Test at the WACA in Perth. Photograph: Paul Kane/Getty Images
Legendary Australian leg spinner Shane Warne has accused skipper Steve Smith of 'bad captaincy' for his handling of off-spinner Nathan Lyon during the team's first Test against South Africa at the WACA in Perth.
The Proteas beat Australia by 177 runs to lead the three-match series 1-0.
Smith gave only 12 overs to Lyon on Day 3 as temperatures soared into the high 30s, thus drawing criticism from Warne, who believes the skipper's snubbing of the off-spinner would have sapped the latter's confidence.
"It wasn't like the ball was hooping around corners yesterday, they couldn't take a wicket. I thought it was a bit weird Nathan Lyon didn't bowl one over. He bowled 12 overs on a 37-degree day and the quicks bowled their hearts out," Warne was quoted as saying by stuff.co.nz.
"To me it's bad captaincy because you're trying to get the best out of the players. To bowl him for 12 overs, his confidence will be low," he added.