'I don't think Sammy would be a liar. I think Sammy is as honest as they come, so it is going to be quite interesting, going forward, to see and to hear exactly what comes from the board.'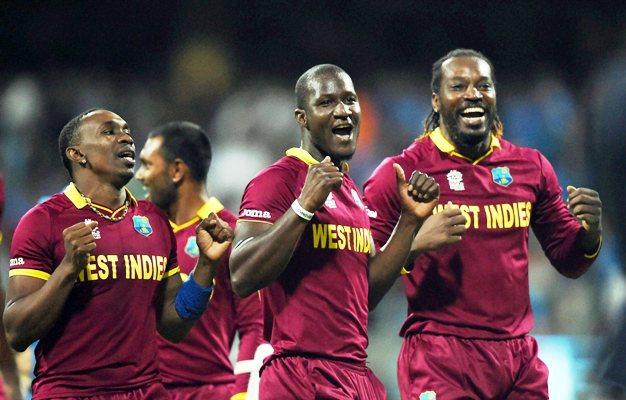 IMAGE: Dwayne Bravo (left), Darren Sammy (centre) and Chris Gayle celebrate after the West Indies beat England in the World T20 final. Photograph: Danish Siddiqui/Reuters
Batting great Viv Richards has come out in support of Darren Sammy after the West Indies Twenty20 skipper criticised the country's cricket board (WICB) for lack of support during the team's triumphant campaign in the World T20 in India.
Sammy had lashed out at the WICB during the post-match ceremony after the West Indies beat England in the World T20 final last Sunday, saying the Caribbean team felt "disrespected" by the Board's attitude after winning the title for a record second time.
"I don't think Sammy would be a liar. I think Sammy is as honest as they come, so it is going to be quite interesting, going forward, to see and to hear exactly what comes from the board," said Richards, who never lost a Test series as West Indies captain.
"Sammy did what he had to do. It was on his mind and you could see what he said meant a lot; it came from the heart. In my mind, it looked like something planned," he told the Observer newspaper.
"Anyone who knows Darren Sammy knows that he is an individual and how he would have led the West Indies cricket from his very start as captain, and sees how committed he is. So I am pleased, in a big way, that he was able to get it off his chest."
Sammy was at the centre of a bitter feud between the players and the WICB over remuneration for the tournament.
As players' representative, he labelled the pay offered by the WICB as "totally unacceptable".
The West Indies created history at the World Twenty20 when their men's and women's teams won the titles.
While the women's team stunned three-time defending champions Australia by eight wickets, the Sammy-led men's side won their second World T20 crown by beating England by four wickets in a sensational last over finish.
Richards feels that the WICB needs to harness these achievements, including the success of the Under-19 team at the Youth World Cup earlier this year, in a positive way.
"There are some hungry folks out there and especially with the excitement with what would have been created from the three versions like the Under-19, the women's factor then the men doing what they did on Sunday," Richards said.
"The interest would certainly be there, so we need to try and get into some areas where we haven't tapped before to try and find some of these fast bowlers that maybe, can help to make a difference in the future. I don't think enough of that would have been done in the past," he said.