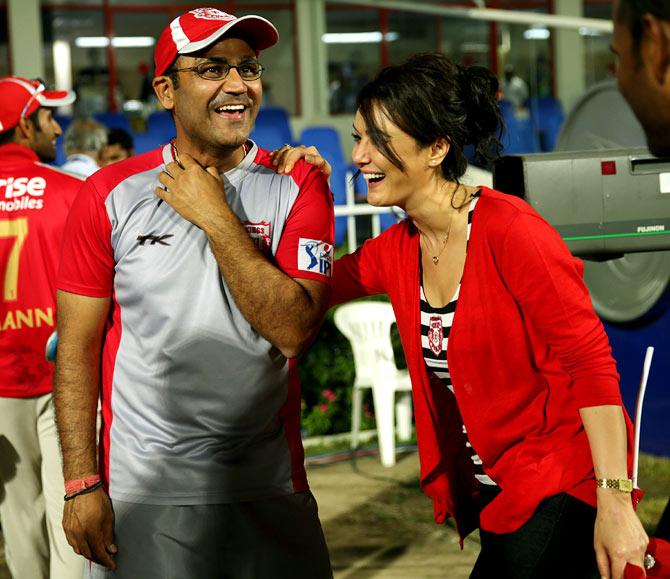 Virender Sehwag (left) with Preity Zinta. Photograph: BCCI
Former India opener Virender Sehwag on Tuesday highlighted the role of coach Sanjay Bangar in Kings XI Punjab's best-ever finish in the Indian Premier League last year when they finished runners up after losing to Kolkata Knight Riders in the final.
"He [Bangar] gives space to the player, he gives time to the player. He will have a chat with him, the players chat with him like a friend. He did the same things with me in IPL 7. He said 'you know what to do and you are my best friend, so let's take this team together and give your feedbacks'.
"He is not doing any coaching stuff but handling each and everyone. He is asking questions to the players, so the players can give answers and he can write it down and remind them before the game which is a good thing to do," Sehwag said in Mumbai.
Bangar was the head coach of Punjab in the IPL last year and his impressive man management skills helped him bag the post of India's batting coach in August.
Sehwag, who has lost his place in the Indian team, was instrumental in Punjab's good showing in the seventh edition of the IPL as he scored 455 runs including a century in the T20 tournament. He is confident that the team can go one step better and clinch their maiden title in IPL 8, to be held in April-May this year.
"We had done well last year so hopefully this year we will do better. The hopes are there and expectations are there, so after the World Cup when the team get together in Pune, we will have a camp where we will make our plans and strategies. I am looking forward to this year's IPL," the veteran batsman added.
When questioned if the scheduling of the IPL is tough on international players, with the T20 league starting within two weeks after the ongoing ICC World Cup.
"It is always like that. You will get two weeks or one week break before the IPL, and then you go home and come back and join your teams. We are professionals and we are used to (it), like you work 365 days in a year (but) for us it is not 365 days but only 65 days that we play, so we are okay with that," he said.
Sehwag, 36, pointed out that IPL is a good platform for young players to prove themselves and bring themselves in contention for a spot in the national team.
"There are other youngsters who didn't get the chance to play last year, so hopefully this year they will get the chance and they will do well for themselves. It's a good thing for Kings XI Punjab that the players who played for Kings XI Punjab and they performed really well and their country's picked them for the World Cup and to play for their country. IPL is a good platform for youngsters to play well and perform and get a chance to play for their country," he said.
Meanwhile, Kings XI Punjab co-owner Preity Zinta slammed a reporter when asked if her break-up with Ness Wadia, who is also a co-owner, and the subsequent saga affect the team in the upcoming IPL. The Bollywood actress filed a police complaint against Wadia, alleging that he molested, abused and threatened her inside Wankhede stadium in South Mumbai.
"I think what has happened off the ground has nothing to do with this. What happens on the ground is the game. I would appreciate from the media to not blow everything out and make a big deal. I would appreciate if you all are a little more elegant about this. What has happened is happened. It is already in one corner and the authorities are looking into it. So please, please. I don't ask you about your things, so just because you are on that side asking these questions, I would really appreciate it if you handle it with a little more dignity and do not keep throwing these questions at me," an angry Zinta said.