He was regarded as the world's most destructive batsman in his heydays but legendary West Indian Sir Vivian Richards feels Virender Sehwag holds that reputation in modern cricket and India's chances in the 2011 World Cup will largely depend on the right-hander's form.
In New Delhi for a promotional event for next year's World Cup, Richards was asked who he considers the most dangerous batsman in present day cricket and the former West Indies captain had no hesitation in naming the dashing Indian opener.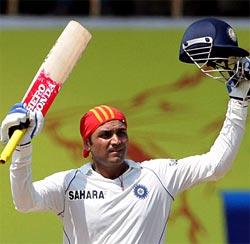 "Sehwag! There is no doubt about it. He is just so destructive. He is totally fearless. India need him badly (during the World Cup)," Richards said when asked who among Chris Gayle, Tillakaratne Dilshan, Adam Gilchrist and Sehwag was the most feared batsmen in the world. 
"He can be very intimidating and can provide magnificent starts to the team which will play a big role in India's success in the World Cup," he added. 
However, former Pakistan captain Imran Khan said after Richards, Inzamam-ul Haq was the "most naturally gifted player" before retiring in the year 2007. 
"Viv was the most naturally gifted batsman against fast bowlers I have ever seen. But if some ask me who after Viv, I would say Inzamam," Imran said. 
Meanwhile, both the players answered in the affirmative when asked whether Australia's aura of invincibility is over.
While Richards said Australia's performance in the ongoing Ashes series was more than enough to give an indication of their current state, Imran was of the view that the Ricky Ponting-led side lack firepower in its bowling department to win matches. 
After the innings and 71 runs drubbing at the hands of England in the second Ashes Test in Adelaide last week, there was a hue and cry in Australia to call Shane Warne back from retirement, which Richards said was enough to prove the world champions' dwindling stock in world cricket. 
"The way they (Australia) are playing gives you the suggestion that they are not the best team in the world. To go back to Warne shows that Australia is in dire straits," the West Indian said.
Imran added: "Australia don't have the attack to take 20 wickets unless they get favourable conditions. Australia definitely needs a spinner but I don't know whether Warne has got the fitness to make a comeback in Tests."