'Kohli is now the first choice of brands to engage and attract consumers, fuelled by his extraordinary on-field performances and off-field charisma'
This year also saw two new entrants in the top-15 celebrity brands – Varun Dhawan at 10 and P V Sindhu at 15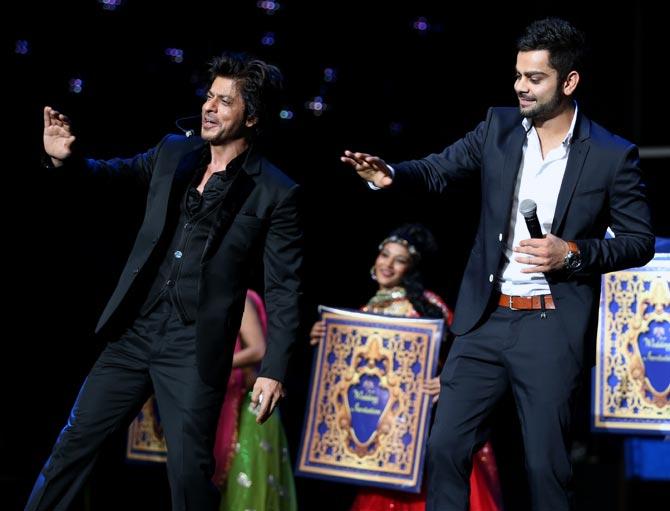 IMAGE: Virat Kohli (right) shakes a leg with Shah Rukh Khan. Photograph: BCCI
India cricket captain Virat Kohli has overtaken Bollywood 'Badshah' Shah Rukh Khan as the most valuable celebrity in the country, according to the latest Duff and Phelps brands report.
Kohli's brand value was $144 million, Shah Rukh Khan's $106 million and actress Deepika Padukone's $93 million — the top three on the list. Padukone managed to hold her spot from last year, while Kohli and Khan swapped places in the pecking order.
"For the first time since we began publishing our rankings, Shah Rukh Khan has slipped from the top ranking and been replaced by Virat Kohli," said Varun Gupta, managing director and region leader-India, Japan and Southeast Asia of Duff & Phelps.
"Kohli is now the first choice of brands to engage and attract consumers, fuelled by his extraordinary on-field performances and off-field charisma."
This year also saw two new entrants in the top-15 celebrity brands – Varun Dhawan at 10 (brand value $32 million) and P V Sindhu at 15 (brand value $15 million).
Ten of the top-15 celebrity brands were millennials.
The brand value of the top 15 celebrities together was $712 million.
"In addition to Kohli, other young celebrities such as Alia Bhatt, Varun Dhawan and badminton champion P V Sindhu have either risen in the rankings or entered our top-15 list, backed by note-worthy performances in their respective fields and strong endorsement signings over the last year," Gupta added.
The report also revealed that 50 per cent of campaigns in India featured a celebrity endorser, against 20 per cent in the US.
Millennials currently endorsed 64 per cent of the brands endorsed by the top-15 celebrities and constitutes 63 per cent of the brand value.