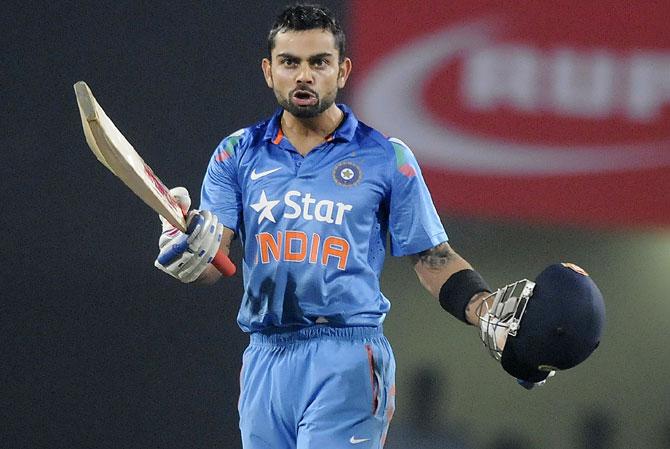 IMAGE: Virat Kohli reacts after scoring a century. Photograph: BCCI.
Virat Kohli was the next big thing in Indian cricket when he was in-charge of the national team. Thus, Gary Kirsten is not surprised by the big strides the Delhi lad has made at the international level both as a player and leader.
"Virat has been a great captain for India. His talent was always unquestionable. He has led by example with his on-field performances. His leadership at the Test level has worked really well for the national team.
"The best part about Virat is that he looks so inspirational as a leader in the manner he walks in the field," Kirsten, who is in Jaipur to help the Rajasthan Cricket Academy with his expertise, said during an interaction.
Kirsten's entire coaching tenure with the Indian cricket team was when Mahendra Singh Dhoni was captain in all three formats, but the former South Africa opener refuses get into comparisons on the leadership qualities of Kohli and Dhoni.
"Dhoni is a very good captain. I had thoroughly enjoyed working with Dhoni during my tenure as India coach. But since I have not watched the Indian team play all formats on a consistent basis, it will not be fair on me to compare Virat and Dhoni's consistency levels," said Kirsten.
Asked about the ICC scrapping the two-tier Test format proposal, the 48-year-old veteran of 101 Tests replied: "I am fine either way, as long as there is high quality Test cricket. I don't think it would be monotonous if some of the top nations play each other on a regular basis. But whatever is best should be done."
On the sensitive subject of having a quota for coloured and black athletes in the national sporting teams of South Africa, he was pleasantly forthcoming.
"I completely support the inclusive policy in national sporting teams. It gives equal opportunity and is truly representative of the values our great nation (South Africa) stands for. It is a bold step in a forward direction. It is a step that addresses the imbalances of past," opined Kirsten.
He termed it as a strong move, saying: "It is a strong move, something that was needed since it has been 25 years (the cricket team returned to the international fold in 1991) since post-apartheid era and the integration is more necessary than ever. Whoever is a part of South African society should be able to embrace the decision as a citizen of this country. It is a great decision and it has taken 40 years to reach here."
On a personal front, he was pleased with the facilities at the Rajasthan Cricket Academy, which has a tie-up with his high-performance academy.
"It is wonderful to work with the Rajasthan Cricket Academy. I am here on a business venture. My high performance academy will be helping the talented Gen-Next cricketers of Rajasthan get a taste of quality modern day coaching which look at the technical as well as the mental aspect of their game. They will learn qualities of strategic planning, reacting to match situations."