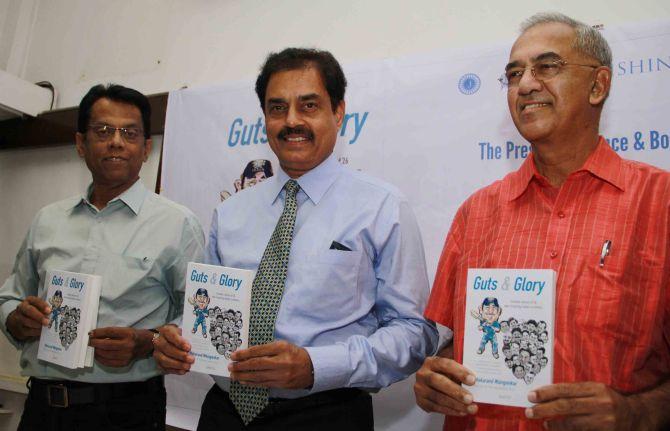 Former India cricket team captain Dilip Vengsarkar (centre) releases Makarand Waingankar's (right) book Guts & Glory in Mumbai on Friday. Former Mumbai cricket team captain Milind Rege (left) was also present at the function. Photograph: Sahil Salvi/Rediff.com. Photograph: Sahil Salvi/Rediff.com
A series of howlers by the umpires in the ongoing India-Australia Test series Down Under has convinced former captain Dilip Vengsarkar to come out in support of the Decision Review System technology, which is consistently being opposed by the Board of Control for Cricket in India.
"I was also of the view that since it's not 100 per cent (correct), DRS was not adequate. But the wrong umpiring decisions in this series have convinced me that we should accept DRS," he said, after releasing Guts and Glory, a book authored by Makarand Waingankar in Mumbai.
Vengsarkar was referring to the wrong decisions given against Indian batsmen Ajinkya Rahane and Cheteshwar Pujara in the first two Tests of the four-game rubber in progress in Australia.
The book, published by Jaico, features 26 past and present Indian cricketers - including former captains Mansur Ali Khan Pataudi, Ajit Wadekar, Sunil Gavaskar, Kapil Dev, Vengsarkar, Sachin Tendulkar and current skipper Mahendra Singh Dhoni, among others.
'Kohli is a captain for the future'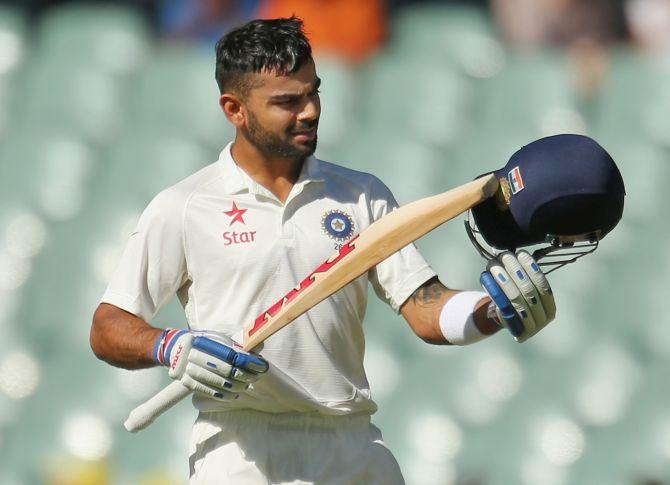 Virat Kohli. Photograph: Scott Barbour/Getty Images
Vengsarkar did not agree with the views expressed by former Australia captain Ian Chappell that Virat Kohli should be made leader of Team India in place of Dhoni, indicating the youngster's time will come.
"He (Kohli) is a captain for the future. But Dhoni has been selected as the captain and is doing a good job.
"I have read a few chapters of the book, including the anecdotes about players and other incidents. One of them is about 90 letters written by Dilip Sardesai to his wife Nandini when on the tour of the West Indies in 1971. I wondered, if he was busy writing so many letters where was the time to play cricket," Vengsarkar said, in a lighter vein.
Improved infrastructure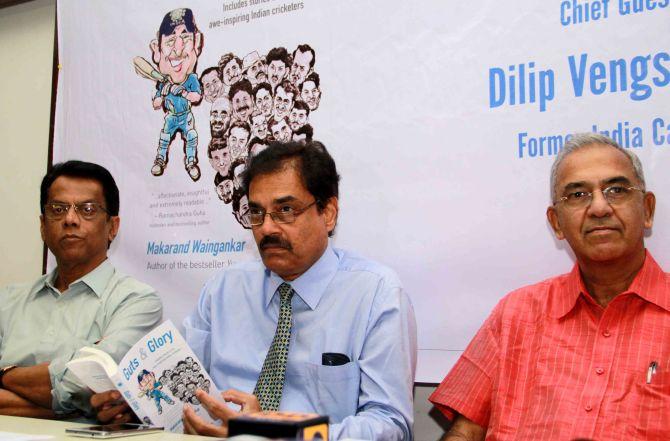 Former India cricket team captain Dilip Vengsarkar (centre) with Makarand Waingankar's (right) and former Mumbai cricket team captain Milind Rege (left). Photograph: Sahil Salvi/Rediff.com
Asked about the current status of cricket in Mumbai, following its Ranji Trophy team's shock loss to minnows Jammu and Kashmir in the season opener, the former chief selector pointed out that other States have also improved a lot as far as cricket infrastructure is concerned.
Vengsarkar believes that improved infrastructure is the reason for lot of talented boys coming from hinterlands.
"Lots of cricketers from smaller states are coming up because of improved infrastructure. I believe it's important to increase competitiveness. League cricket improves only quantity and not quality. When we used to play Harris and Giles Shield (schools cricket tournaments), each and every match was considered as our last," said Vengsarkar.
The 116-Test veteran called for the revival of the age-old Kanga League, scrapped by the Mumbai cricket authorities, to "help players know how to play on soft wickets".
Identifying talent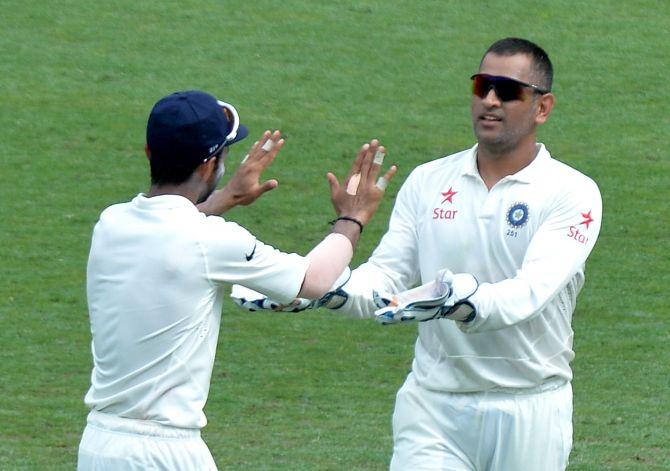 Mahendra Singh Dhoni. Photograph: Bradley Kanaris/Getty Images
He said though T20 cricket has brought money into the game at different levels, there should be a right balance.
"Under-15 players should not play T20 cricket as they develop bad habits."
Former Mumbai captain and current selector Milind Rege maintained that former skipper Chandu Borde should have been among the cricketers featured in the book.
On Mumbai's slump in the beginning of the Ranji season, the former off-spinner said the team was in a transitional phase after the retirement of some seniors.
"We will have a team in order in the next couple of years."
Former Bengal captain Raju Mukherjee recalled the contribution of Vengsarkar in spotting the talent of Dhoni when he was chairman of the BCCI's TRD (Talent Research Development) wing.
"If Vengsarkar had not been chief of TRD, Dhoni would not have made it to the top. He (Dhoni) had played five years of first-class cricket and selectors had seen him but none picked him. Dilip identified his talent," said Mukherjee, who is now Bengal's chairman of the selection committee.