'I used to take off the handle, add glue, replace the handle and put chairs on it.'
'Life is a book and cricket is one of its chapters. It's not the whole book.'
'It took me 22 years to realise my dream (win the World Cup). I succeeded because I kept trying.'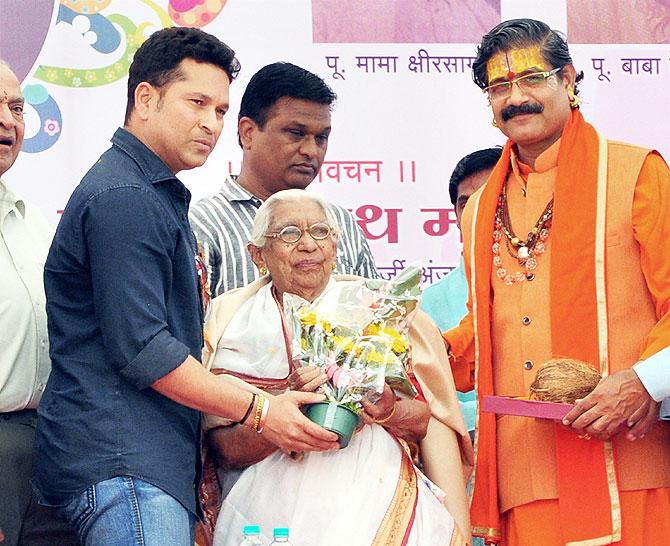 IMAGE: Batting legend Sachin Tendulkar felicitates an elderly woman during the Amrut Mahotsav celebrations of Prabodhan Vidyalaya at Daryapur in Amravati district of Maharashtra. Photograph: PTI.
India's batting legend Sachin Tendulkar shared his superstition of wearing the left pad first and using his favourite bat even if it was broken by fixing it in his hotel room.
The batting maestro, who was in Amravati, Maharashtra, to inaugurate a sports complex said, "I used to take off the handle, add glue, replace the handle and put chairs on it so that it got properly stuck for the next day's play. I used to do it at my hotel room."
Tendulkar told his cheering fans in Amravati on Tuesday that winning the World Cup was the most memorable moment of his life.
"It was my childhood dream to play for India and win the World Cup. To realise that dream I toiled consistently.
"I never gave up and finally achieved it. It took me 22 years to realise it. I succeeded because I kept trying. So, if you want to achieve anything in your life, don't turn your back and try to achieve it till you succeed.
"That was the day when cricket fans danced and jumped even on my car. That was the first time fans jumped on my car and danced. I enjoyed it. I was greatly delighted, because it was a moment that had given joy to millions of people. I can never forget it."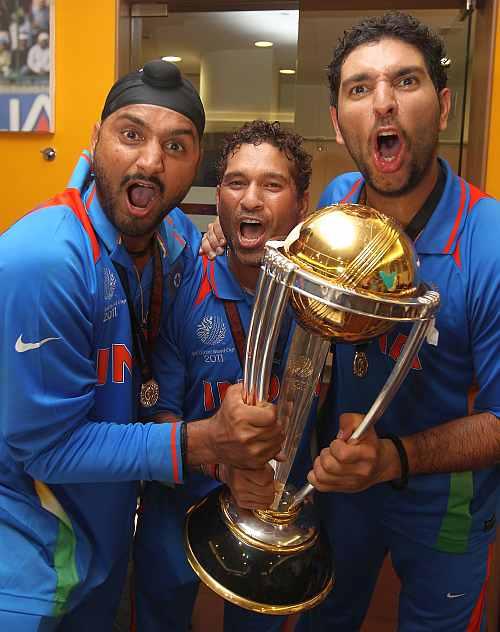 IMAGE: Sachin Tendulkar, centre, Harbhajan Singh, left, and Yuvraj Singh celebrate with the 2011 World Cup. Photograph: Getty Images.
Motivating the youngsters further, he told them to take criticism positively.
"Those who never held a bat in their hands and took a single run used to criticise me, but I answered them with my bat, choosing not to utter a word.
"I always gave a positive reply through my bat," the cricket icon said.
Tendulkar also advised youngsters to "learn from mistakes".
"Don't repeat them and always play fair," he said.
"Accept the challenges, because every challenge has something positive. Look for an opportunity in a challenge. Don't get bogged down by it. Focus on your capacity and be a winner."
Insisting he's not an aggressive person by nature, he added, when he holds a bat, aggression flows through his veins.
"Life is a book and cricket is one of its chapters. It's not the whole book. So once you have achieved and enjoyed your dream, try to become a good person."