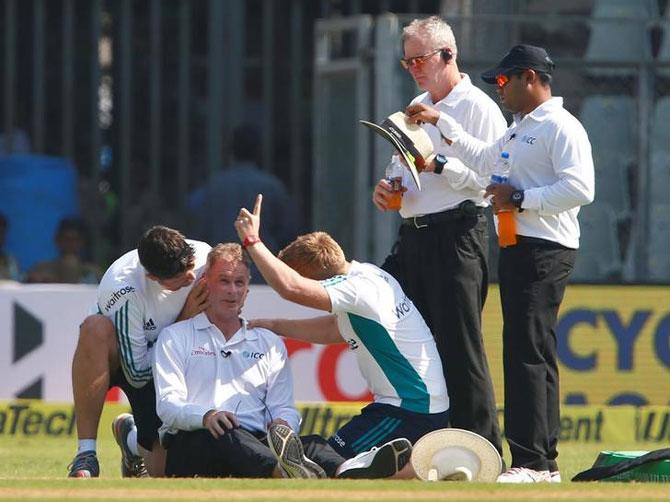 IMAGE: Umpire Paul Reiffel is helped by medical staff during Day 1 of the 4th Test in Mumbai on Thursday. Photograph: Danish Siddiqui/Reuters
Australian umpire Paul Reiffel will not officiate in the remainder of the ongoing fourth Test between India and England after suffering concussion following a blow to the back of his head on Thursday.
Television umpire Marais Erasmus, who took over Reiffel's on-field duties after he left the field, will continue for the rest of the match, the Indian cricket board (BCCI) said in a statement on Friday.
The incident occurred in the second session on Thursday when former Australia fast bowler Reiffel was hit by a lobbed throw from the outfield from India's Bhuvneshwar Kumar at the Wankhede Stadium.
England's medical staff helped the 50-year-old off the field with play restarting after a brief delay with Erasmus replacing Reiffel.
"Paul Reiffel underwent precautionary Tests yesterday, which came back all clear," the BCCI said.
"Paul, however, has been advised to rest, which is the normal course prescribed following a concussion.
"As such, he will not take any further part in the Mumbai Test and has been replaced by Marais Erasmus."
Indian umpire Chettithody Shamshuddin, who was present at the ground as part of a programme to train local umpires on the decision review system, replaced Erasmus as the television official ahead of reserve umpire Nitin Menon.