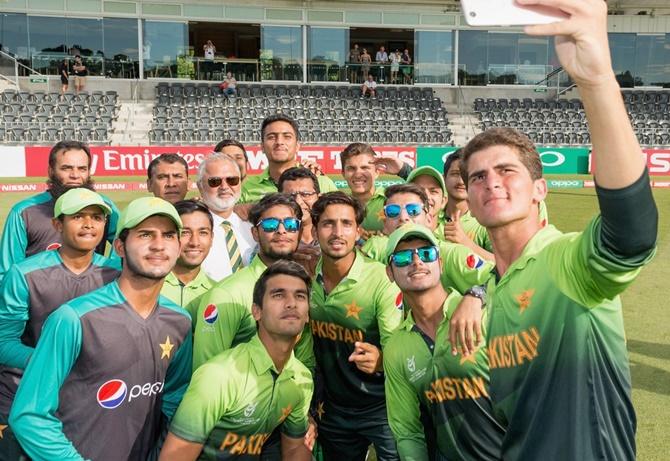 IMAGE: Pakistan was third due to finishing as winners in Group D ahead of Afghanistan. Photograph: ICC/Twitter.
Two-time champions Pakistan claimed third position at the ICC U-19 Cricket World Cup 2018 after their third-fourth position play-off match against Afghanistan was washed-out on Thursday without a ball being bowled, in Queenstown.
Afghanistan and Pakistan were in Group D and though Afghanistan defeated Pakistan in their opener, Pakistan topped the group after Afghanistan suffered a surprise defeat against Ireland in their last group match.
While this is Afghanistan's best finish in an ICC U-19 Cricket World Cup after they claimed 16th, 10th, seventh and ninth positions in the 2010, 2012, 2014 and 2016 events, respectively, this is the third time Pakistan have finished third after 2000 and 2010.
Pakistan's worst performance in the ICC U-19 Cricket World Cup was in 2012 when they finished eighth.
Pakistan, the only country to have won back-to-back titles, in 2004 and 2006, got past South Africa by three wickets in the quarter-finals but suffered a massive 203 runs defeat to India in the semi-finals with the team bundled out for only 69 runs.
Afghanistan lost to three-time champions Australia by six wickets in the semi-finals after a huge 202 runs victory over New Zealand in their last-eight fixture.
Pakistan coach Mansoor Rana said he was happy with the side's third-place finish and reflected on their performance in the tournament.
"We're happy but we would have liked to be in the final. Both teams wanted to play today and it would have been better if we had played and got these positions, said Rana following the wash out at the John Davies Oval.
He praised the fast bowling attack of Shaheen Afridi, Muhammad Musa and Arshad Iqbal.
"I thought we saw talented players in all teams. Pakistan has some really good fast bowlers and also some good batsmen. I think they should be given more time in domestic cricket. There are expectations from them but they should play first-class and A cricket (before graduating to senior international cricket).
"Our best moment in the tournament was the quarter-final against South Africa, which was a high- pressure match. I thought that was great experience and the kind of experience players get here, no other tournament can provide. Our team enjoyed being in the semi-finals despite the result," he added.
Rana said the tournament is a great learning experience for the young players of his side.