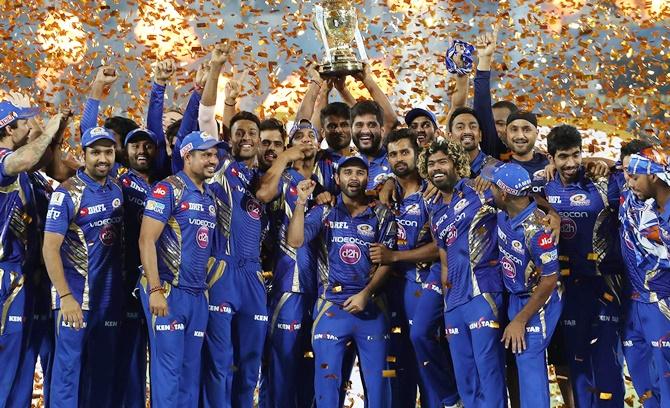 Mumbai Indians were crowned the Indian Premier League (IPL) champions for the third time after Mitchell Johnson delivered a three-wicket final over to help secure their thrilling one-run victory over Rising Pune Supergiant in the final, in Hyderabad, on Sunday.
Mumbai were reeling at 79-7 but Krunal Pandya topscored for them with a belligerent 47 before falling to the final delivery of the innings.
"It was a great game of cricket and I hope the crowd enjoyed it," Rohit said.
"To defend such a modest total, the first thing you need is self-belief and I told the boys we can do it. It was a great effort by the team, hats off to them."
Bollywood and cricket stars took to Twitter praising Mumbai Indians and Rising Pune Supergiant for a thrilling finale.
The legendary cricketer Kapil Dev wrote, "This is how you want a final match to be like. Super exciting. Congrats @mipaltan on another ipl title."
Hyderabad Sunrisers' Yuvraj Singh tweeted, "What an amazing game of cricket this is what makes @ipl such an amazing tournament bad luck pune but @mipaltan bowlers kept their nerves."
Virender Sehwag tweeted, "What a brilliant #IPLfinal Congratulations @mipaltan on a great victory. Congratulations to Pune as well for giving such great entertainment."
Hyderabad Sunsisers captain David Warner was amazed and took to Twitter, "That's 20/20 cricket for you. Two halves of a game. Superb bowling from @mipaltan was happy to be proven wrong. Amazing match, cricket wins."
Former Australia captain Michael Clarke wrote, "What a win! I am speechless. @mipaltan congratulations. I gave you no chance and I was so WRONG. MJ with a brilliant last over."
Harsha Bhogle wrote, "Fantastic work from @mipaltan the best team in the league phase. But what a stirring campaign from @RPSupergiants."
Former cricketer and commentator Sanjay Manjrekar tweeted, "Have seen many nail biters but haven't seen such a turn around. It was RPS's game & title for the taking."
Megastar Amitabh Bachchan, who called the win 'unbelievable', had switched the television off at interval, only to be told later by Abhishek Bachan that they ended up winning.
Sharing a picture of the players on his Twitter account, the 'PINK' star wrote, "Had given up on the final of IPL ..switched off at interval .. then Abhishek called and said we won .. UNBELIEVABLE !! YEEAAAAAAAH"
Actor Abhishek Bachchan tweeted, "WHAT A FINAL!!!! CHAMPIONS!!!! COME ON MUMBAI!!!"
An excited actor Ranveer Singh wrote, "FOUGHT !!!!! DEFENDED !!!!! What a sweet , sweet victory !!! Glorious, GLORIOUS stuff , boys !!!!"