'He understands what the team demands. It's a very nice and beautiful thing about him that he always puts the team first. He was the first guy who said, I have no problems with the kind of combination you are going in with.'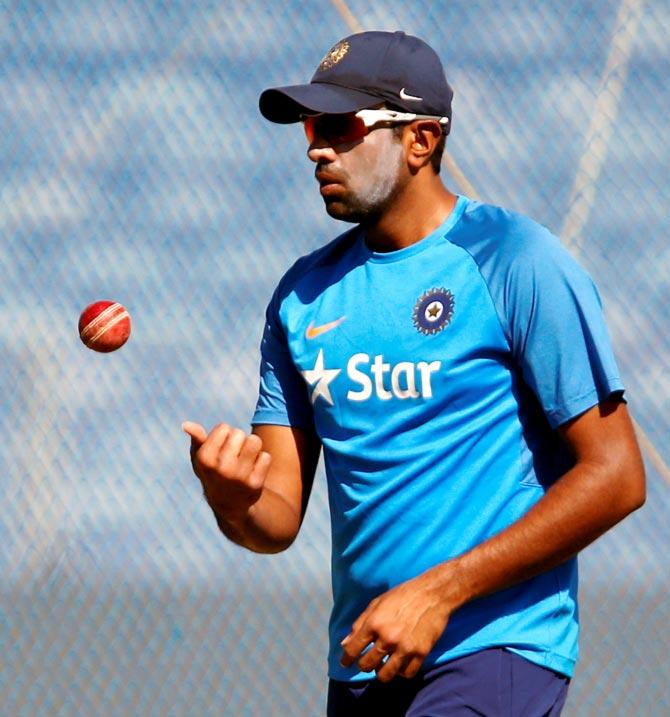 IMAGE: Ravichandran Ashwin bowls in the nets. Photograph: Danish Siddiqui/Reuters
It is difficult to digest exclusion after a fabulous season in Test cricket but Ravichandran Ashwin 'understands the dynamics' of team composition which led to Ravindra Jadeja being preferred over him, claimed India captain Virat Kohli.

Asked if as a skipper, it is a difficult job to go up to his main strike bowler and inform him about being dropped for a match, Kohli replied that on the contrary it is easy.

"Ashwin is a top-class bowler. Everyone knows that. And he is very professional as well. He understands the dynamics of the side that was picked in the last game and he was absolutely fine with it. He (Ashwin) told me 'I support you whatever you want to do.' That's always been our equation," Kohli said on Wednesday, the eve of the match against Sri Lanka.

Kohli revealed that there have been 'disagreements' with Ashwin but specifically related to on-field technical issues and never ever over selection matters.

"Yes, we do have disagreements on bowling plans and all those sort of things because he is a very smart guy and he has his own plans in place. All those things happen.

"But in this case where team selection and all these things come into play, he is very professional. He understands what the team demands. It's a very nice and beautiful thing about him that he always puts the team first. He was the first guy who said, I have no problems with the kind of combination you are going in with," Kohli said.

As a captain, Kohli has taken some tough calls including promotion of Hardik Pandya over Mahendra Singh Dhoni but he again stressed on the camaraderie of the change room, which enables him to take the call that is beneficial for the team.

"Not hard (taking tough calls) at all. As I said, it's very hard for people looking from the outside, but the kind of understanding we have within the team, it's difficult to explain. We have a lot of respect among the players and trust among the players," he said.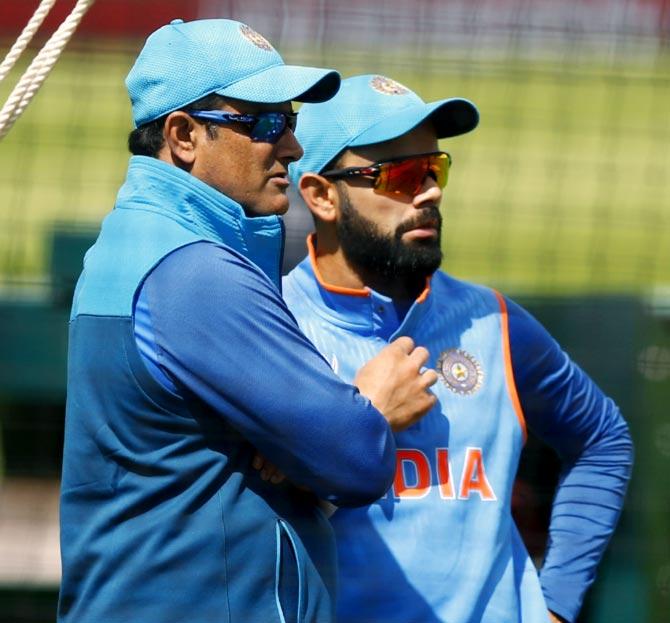 IMAGE: Captain Virat Kohli with coach Anil Kumble in the nets. Photograph: Peter Cziborra/Reuters
The skipper said that he isn't speaking just for the heck of it but that has been the case.

"There are no issues whatsoever -- I mean. I am not saying this because I want to make it sound good but if you guys ever end up experiencing that team environment, you will understand what I am saying, that there is total transparency.

"Everyone respects and understands what we decide to do as a team. If people react to it differently, then it becomes an issue, but if everyone is supportive of it, then you have no issues at all," Kohli said.

On Umesh Yadav being preferred over a more crafty Mohammed Shami, the skipper's logic was lack of game time.

But he also did not forget to mention about how good the bench strength is when someone of Shami's calibre has to wait for his turn.

"Shami has not played 50-over cricket for a long time. I am glad he bowled really well in the first few practice games but I felt that Umesh, Bhuvi, and Bumrah had much more match practice and the performances to back that up in the last few series we played," Kohli said.

"A bowler like Shami will always be in your set up because we know about his abilities, and he's the sort of guy that can win you games in any form of cricket," he added.