Flowers and a cricket bat are left outside Phillip Hughes property. Photograph: Joosep Martinson/Getty Images
Cricketers at the elite level will simply need time to process the death of Phillip Hughes before they would be able to play again, according to a psychologist who works with New Zealand's high performance athletes.
Tendulkar, Rahane join #putoutyourbats tribute to Phil Hughes
Brisbane Test set to be rescheduled; Australian players not ready
12 cricketers called to rest on the field
Australian Test batsman Hughes died at the age of 25 on Thursday, two days after he was struck in the head by a short-pitched delivery from Sean Abbott in a first class game at the Sydney Cricket Ground.
Australia's test captain Michael Clarke choked back tears as he paid tribute to Hughes on Saturday, while New Zealand coach Mike Hesson said his players felt the second day of their third Test against Pakistan in Sharjah was 'irrelevant'.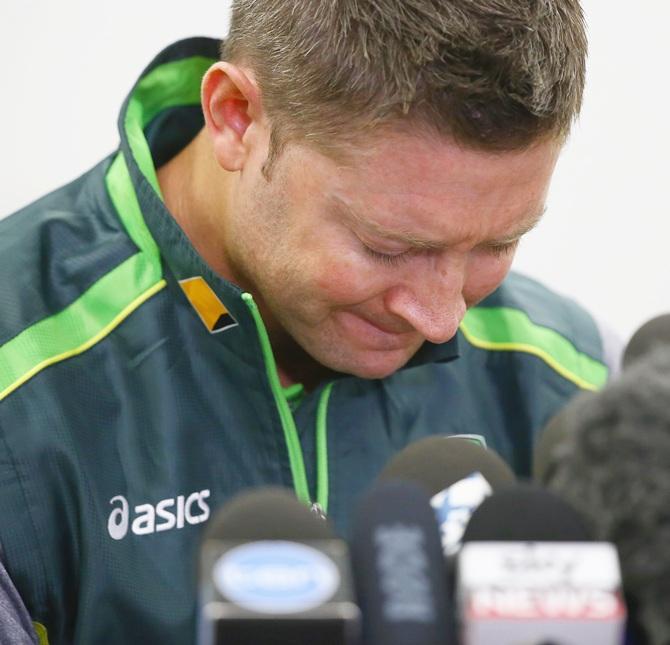 Australian cricket captain Michael Clarke pauses as he reads a statement. Photograph: Mark Kolbe/Getty Images
Rod Corban, a senior psychologist with High Performance Sport New Zealand, said it was natural for players at the elite level to feel a sense of loss, given the relatively small community of professional cricketers.
"It's a tragedy, they feel for him and his family and the young man who bowled it, but I don't think it will affect them too much once they're out there and playing," Corban said.
"It won't stop people thinking about the event and how they work through it is acknowledging that it was a freak accident and then going out and performing the tasks they do week in, week out.
"That's not to say they won't have those thoughts floating around about 'what is going to happen to me', but I think most professional cricketers would feel relatively resilient to deal with it once they're out on the wicket."
While Corban expects many cricketers will try not to think too much about the circumstances behind Hughes's death, the outpouring of emotion and grief from around the world was only natural according to another psychologist.
Social media was inundated with people expressing their feelings about the tragedy, with few if any people actually personally knowing the cricketer, and the reaction was considered comparable to the death of Formula One champion Ayrton Senna in 1994.
Victoria University of Wellington Associate Professor of Psychology Marc Wilson, however, said it was not a surprise given the way people think about death, particularly of those in the public eye.
"If you look back to the death of Princess Diana (in 1997), people reacted very strongly to that," he said. "In fact people reacted to that as if it was a death in their own family.
"The reason for that is because we see these people on television or in newspapers or magazines more than we do than the people we are related to.
"So in some respect we react to the deaths of celebrities or characters more strongly because we see them as part of our lives."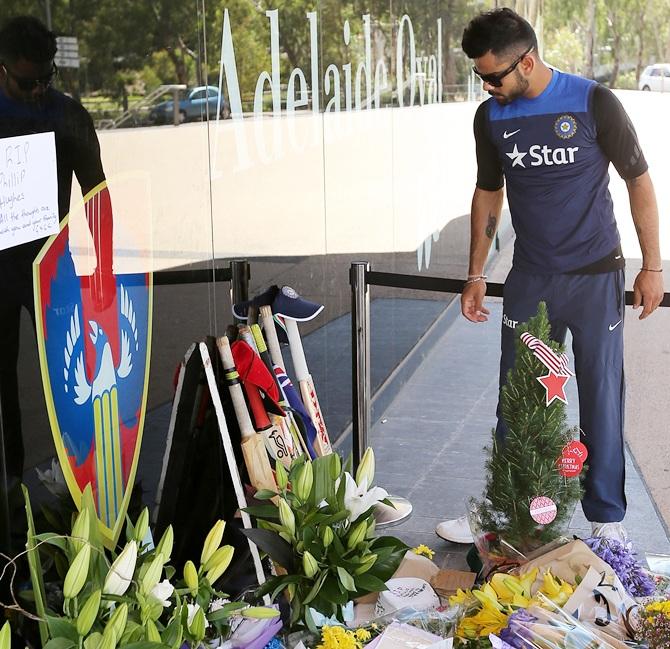 Virat Kohli of India leaves a bat and cap at a memorial for Phil Hughes outside the Adelaide Oval during an India training session. Photograph: Morne de Klerk/Getty Images
Wilson added that Hughes's age and the loss of unfulfilled potential, the fact he suffered a fatal injury while playing the relatively safe sport of cricket, the ubiquity of social media and that it brought into focus people's own vulnerability, were contributory factors to the outpouring of emotion.
"There is a whole branch of psychology that comes back to the idea of death (because) death is a certainty. We all know we are going to die," he added.
"This is used to explain a whole bunch of behaviours and beliefs and we pay all sorts of attention to that.
"This reflects a basic human interest in bad things, because they can kill us. If we can stop bad things happening then we are going to be better off.
"Things that make us happy that's really good, but we are actually more concerned about life and death than we are about being happier as we live."