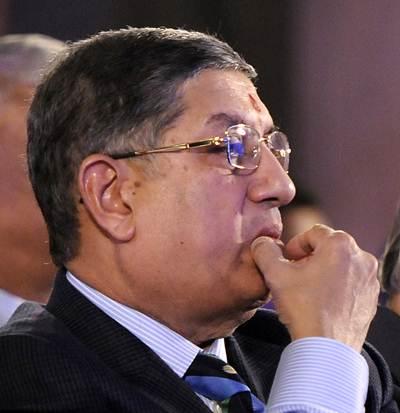 The Supreme Court of India barred Narayanswami Srinivasan from contesting the Board of Control for Cricket of India's elections till he forsakes ownership of his Indian Premier League team, Chennai Super Kings, and appointed a committee of retired judges to decide the quantum of punishment to be imposed on his son-in-law, Gurunath Meiyappan, and Raj Kundra for their involvement in betting in the sixth edition of the cash-rich Twenty20 extravaganza.
- How the Supreme Court bowled Srinivasan and the BCCI!

The much-awaited verdict was delivered by a bench of Justices T S Thakur and F M I Khalifulla, which assailed the amendment in the Board of Control for Cricket in India's rules permitting cricket administrators like Srinivasan to have commercial interest by owing teams in the IPL and Champions League and said it was bad on grounds of conflict of interest.

The 138-page judgement virtually forced Srinivasan to quickly choose whether to contest the BCCI's chief's post or hold on to the Chennai Super Kings-owned by India Cements Ltd of which he is the managing director.

The committee, comprising former Chief Justice of India R M Lodha and Justices Ashok Bhan and R V Ravenderan, will hand down the punishment to Meiyappan and Kundra, which under the IPL rules could lead to cancellation of the franchise relating to Chennai Super Kings and Rajasthan Royals.

Click the link below for the complete judgement delivered by the Supreme Court bench of Justices T S Thakur and F M I Khalifulla on January 22, 2015.
- The 130-page Supreme Court judgement on the IPL fixing probe