Not just Angelo but others need to perform as well: Chandimal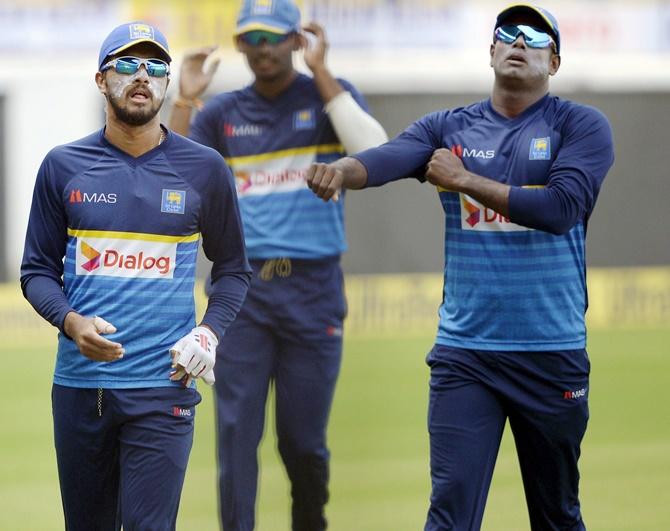 IMAGE: Sri Lanka captain Dinesh Chandimal with teammate Angelo Mathews during a practice session. Photograph: Shashank Parade/PTI.
Sri Lanka captain Dinesh Chandimal, on Friday, came to under-fire Angelo Mathews' defence, making it clear that not only him but all other top order batsmen also need to perform.
Sri Lanka lost the second Test by an innings and 239 runs and Mathews has been going through a rough patch for quite some time now.
Asked if the senior pro needs to step up, Chandimal replied: "Mathews is a senior batsman we have got in our batting line up but it's not only him there are other senior batsmen also. And even for the youngsters, they all have to take the responsibility when they are out there in the middle.
"So it's not only about Angelo but also about others, who have to stand up and perform in the middle," he added.
The skipper admitted that the absence of senior most player Rangana Herath will affect the balance of the team.
"Rangana is a big loss unfortunately as he has got a back injury. We have got Lakshan Sandakan and Jeffrey Vandersay in our line-up. They have a good opportunity to play."
Chandimal hinted that there could be a few changes in the playing XI.
"We haven't decided on anything yet but most probably we are going to do a few changes."
The application of the top order Sri Lankan batsmen have left a lot to be desired and Chandimal stressed on the need to bat for long hours in order to get rid of this problem.
"That's a problem we have had over the last one and half years. The top-five batsmen have to play long innings. That's where we have lost in the past one year."
"I am sure the guys will have different plans in the next game and they will do their best," captain though didn't sound too convinced.
Chandimal admitted that although they have had elaborate meetings on batting woes, it can be solved only by proper execution in the middle.
He is a young captain and Chandimal wants to keep his chin up despite demoralizing defeats.
"In our life, we also have ups and downs. When you are losing, you learn so many things about how to come out of it. It's a hard time for the team but I have a really good feeling we can change these things going forward."
Chandimal said that when he bats in the middle, he forgets that he is the captain of the side.
"I don't want to take too much pressure. When I am batting, I am only a batsman and not the captain. There will be no change in approach in my batting," he concluded.