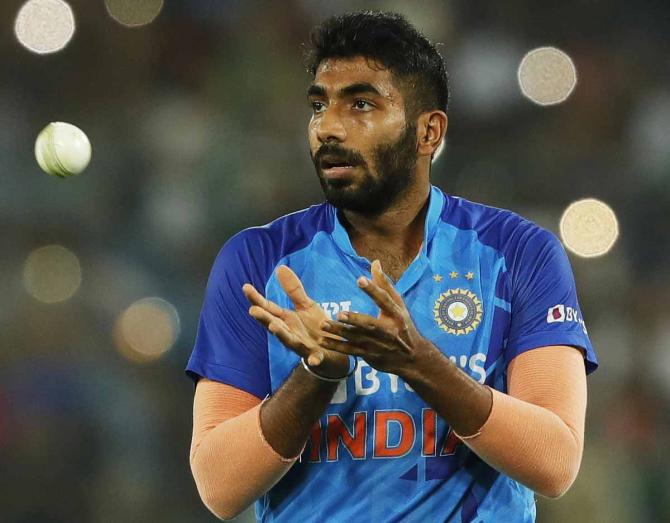 Chief selector Chetan Sharma on Tuesday opened a can of worms during a sting operation conducted by a TV channel as he revealed how Jasprit Bumrah wanted to play for the Indian team despite struggling with an injury last year.
He stated that there was a difference of opinion between him and the team management over Bumrah's return from a stress fracture for the T20I series against Australia in September, with the fast bowler desperate to be part of the Indian team for the T20 World Cup.

Bumrah played the second and third T20I against Australia in September before he was ruled out of the preceding series against South Africa with a back injury and has been out of action since then.

"When he came back he was fit so we planned because there were only two matches left before the T20 World Cup my point of view was that he should play the third match of the series," Sharma was quoted as saying in the sting operation conducted by Zee News.

"But Rahul Dravid and Rohit wanted him to play the second match then we will rest him for the third game and send him early to Australia. And out of our 3-4 practice matches (ahead of the T20 World Cup), he will play two of them.

"So I spoke to Bumrah, and Bumrah wanted to play the first match of the T20 series against Australia. I told him that 'no no you can't play the first match, you play the second match'."

"And when he played the second match, in the evening he was a little uncomfortable so I got a call saying that 'Sir we should send him for a scan'. Now the team management was caught in a fix, the selectors were also caught in a fix that Bumrah is having some issues and if we fly him to Australia and include him in the World Cup team. And once the team is announced we cannot change after that so we have to do the complete procedure after that."

"When he was asked he replied saying 'I am completely alright' and then he played the second T20 match against Australia.

Bumrah also played the third match of the series in which he conceded 50 runs in his four overs while going wicketless after which he hasn't recovered his match fitness so far.

"In the middle of the second match in the evening, I got a message saying that 'we are taking him again for a scan' and when they did the scan they found out that if he goes to the World Cup but will break down after one or two match. If we play him in the World Cup he will be out of the scene for atleast an year."

"Now the selection committee was in a fix, the sports science (team) was also in a fix as to what to do next. We all will sit together and decide what to do next."

"We called Bumrah, we spoke to him, and he said 'I won't be able to play. I will break down and the team will be in trouble, you won't be able to plan so leave me out and that is why we didn't pick him'."

"If we had to play him, we would have picked him for the Pakistan match but if he had pulled out with injury after bowling two overs in that match, we would not have been able to show our face to anyone. Half of the sports science team would have lost their jobs and half of the selectors would have also lost their jobs."
In the same sting operation, Sharma had claimed how India's top players are taking injections so that they are able to play despite not being fully fit.