'I can't talk about whether series will go on or not but if players and associations are not paid, it raises serious doubts at a time when the team is No. 1 in Tests, No. 2 in T20s, No. 3 in ODIs'
'Questions are being raised about BCCI when we have increased the Test cricketers match fee from 7 lakh to 15 lakh. Most state units are unsure how they will be able to host games in this home season. They need to decide whether they can host the games or not, with or without money'
BCCI President Anurag Thakur has refused to speculate the fate of the ongoing Test series with New Zealand, but has categorically stated that the game cannot be run without money even as the Lodha Panel clarified it did not direct the banks to freeze cricket Board's accounts.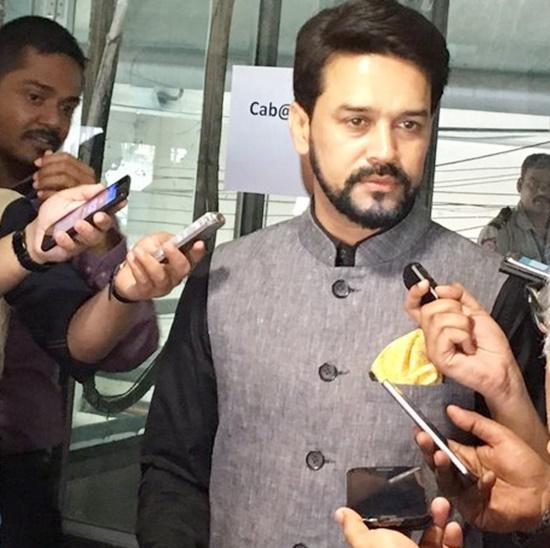 Thakur said it was unfortunate that they were not allowed to release funds to the state associations, which depend on them for money for hosting the games.
"I can't talk about whether series will go on or not but if players and associations are not paid, it raises serious doubts at a time when the team is No. 1 in Tests, No. 2 in T20s, No. 3 in ODIs. It's the most powerful Board. We have created a successful tournament like IPL. We can't run the game without money," Thakur said.
- Accounts freeze ruined BCCI reputation, says president Thakur
- NZ says business as usual despite tour cancellation report
"BCCI does not take any money from outside whether it's central or state government. Banks were told not to release payments. It is unfortunate that such a situation has arisen. Has BCCI not done anything at all these years? These questions need to be answered," Thakur fumed.
Taking an exception to the defiance of its recommendations, the Supreme Court-appointed Lodha panel had directed banks, where BCCI holds accounts, not to disburse "large" funds to the state associations, a decision taken by the Board at its Special General Meeting on September 30.
"Questions are being raised about BCCI when we have increased the Test cricketers match fee from 7 lakh to 15 lakh. Most state units are unsure how they will be able to host games in this home season. They need to decide whether they can host the games or not, with or without money," Thakur said.
However, Lodha clarified that they did not ask the banks to block the BCCI accounts.
"We have not frozen the accounts of BCCI, we have directed the BCCI to not disburse funds to the state association. Day-to-day affairs, routine expenditure, matches, games, that should go on. There is absolutely no prohibition," Lodha said.
The BCCI argued that state associations were dependant on the parent body for organising matches and they were unable to carry on their functioning in the wake of the latest directive from the Lodha panel, affecting their preparations for the upcoming games in the ongoing series against New Zealand.
"The members are pained at the treatment meted out to them. They are dependant on BCCI's funds for organizing matches. So far seven associations have communicated their inability to host games in the home season while nine of them have inquired about the matter. If things are the way they are, the series (against New Zealand) could be called off by today evening," a senior BCCI official told PTI.
"There is too much interference at the moment. People need to realise India has become a cricketing super power under BCCI's administration. We are the only sports body which has not taken a single penny from anyone including the government. We have created all the infrastructure on our own," the senior Board functionary added.
Image: BCCI president Anurag Thakur
Photograph: BCCI/Twitter