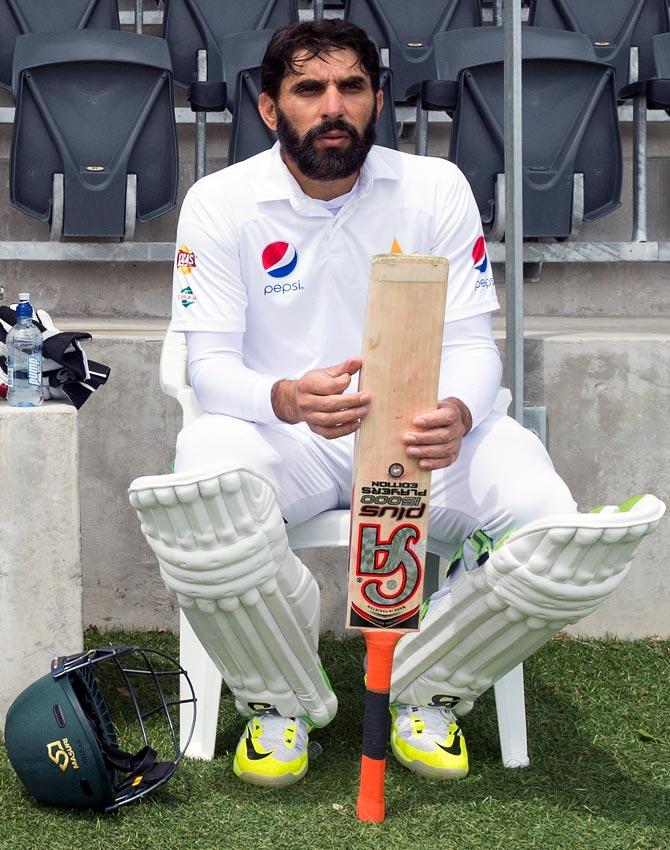 IMAGE: Pakistan captain Misbah-ul-Haq. Photograph: Kai Schwoerer/Getty Images
Test captain Misbah-ul-Haq is yet to announce if the tour to the West Indies will be his final one for Pakistan but PCB chairman Shaharyar Khan on Wednesday made it clear that the series will bring the curtains down on the veteran batsman's international career.

Khan told the media in Lahore that the Test series in West Indies will be the last for Misbah.

"No discussions have been held with Misbah regarding his retirement. However, a consensus has been reached that the Test matches against West Indies will be his last series," he said.

Misbah in recent
interviews made it clear that he had made up his mind but his wife and children still wanted him to carry on playing for Pakistan.
"I think a player is the best judge of when it is time for him to go. He knows whether he has the form, fitness and hunger for cricket to carry on or step down," Misbah said in a recent interview.
Misbah, 42, has been under pressure since Pakistan were whitewashed in the Test series in New Zealand and Australia late last year to step down after a long and successful Test career as captain since late 2010.
Former captains and critics have been advising him to step down but he remains defiant in the face of criticism.
The PCB has already appointed wicketkeeper-batsman Sarfaraz Ahmad as the deputy to Misbah and he is expected to take over as Test captain after the series in West Indies.
Sarfaraz has already taken over as the Pakistan captain in the limited-over formats.