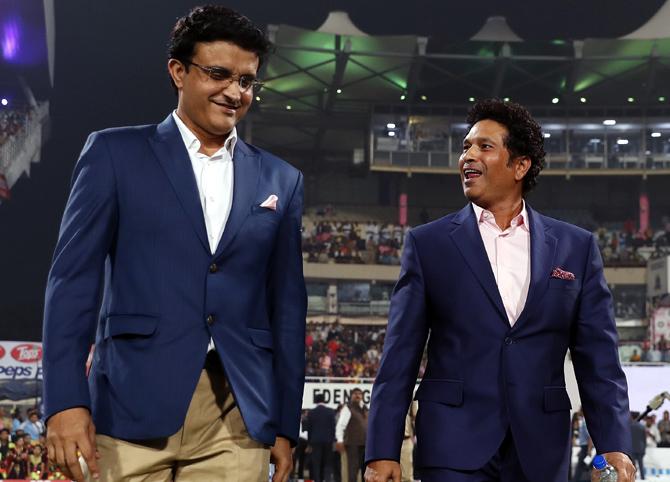 BCCI president Sourav Ganguly said they are looking to get clarification from the BCCI ethics officer D K Jain before they go ahead with the appointment of the Cricket Advisory Committee, which is entrusted with picking the selection committee and the head coach.

"We will form the CAC, we met the Honourable (Ethics Officer) DK Jain yesterday regarding the conflict of interest issue and we will appoint the CAC because as your aware with Rahul Dravid's judgement, when we were conflicted last time, we have been cleared, me and VVS (Laxman), not at this moment, because I am obviously conflicted at this moment, being involved with the BCCI with whatever I do," said Ganguly after the BCCI AGM in Mumbai on Sunday.
The Cricket Advisory Committee has always been dogged with controversies with former players Sachin Tendulkar, Ganguly and VVS Laxman, where part of the CAC in the past, caught in the conflict of interest allegations. Earlier this year, Kapil Dev, Shantha Rangaswamy and Anshuman Gaekwad, who retained Ravi Shastri as India's head coach as part of the CAC, were also forced to quit because of the conflict allegations.

It is for this very reason that Ganguly wants proper clarification on the conflict issue before the BCCI proceeds with appointing the CAC members.

"The other part last year, when I was not in any official position with the BCCI, we got cleared. So we needed to get proper clarity from him (Jain) on what is conflict and what is not conflict because we don't want to appoint someone and then he gets cancelled by conflict, like it has happened in the past two times with us and Kapil Dev and his team, so those clarities were required and we will formulate all those committees," said the former India captain.

When asked if Sachin Tendulkar and VVS Laxman would be keen to join the CAC in the future: "No, no. They will not even want to come back."

When asked whether the BCCI will consider retaining the current selection committee, considering that there are two ICC World T20 tournaments coming up in the next two years, the BCCI chief said: "Tenures are finished tenures are finished. You cannot go beyond your tenure and all of them don't finish, so majority of them stay and I think it should not be a problem."

Ganguly also stated that the Board is quite happy with the national selectors, who have invited a lot of criticism recently.

"Just because we were not involved it doesn't mean the selectors were bad, they have done a good job. The team has done well, we don't have any problems with them," he said.

He said the controversial conflict of interest clause has stopped former players from taking up the CAC role.

"The conflict clause stops everyone, A to Z it stops everyone. It has got former cricketers also, former administrators also. That is why we can't make the CAC, we can't make proper selectors.
Like me, I can't do anything. It has to be practical. Conflict should only be for someone like us, who are administrators

We are going back to the court for all these clarifications because some of these I don't know where we will finish. The conflict issue stops us from everything, to get good people and keep them for longer and to stop them from doing other things is very difficult.

We will see what happens, we will do what we can. We will have to get people who are completely out of all this, and ask them to pick it (the selectors), otherwise how will we do it," he said.