At best, an autobiography by a megastar like Sachin Tendulkar tends to be insipid, recounting situations or experiences that have already been documented and shared ... For a person his image and unsurpassable popularity, there was virtually no upside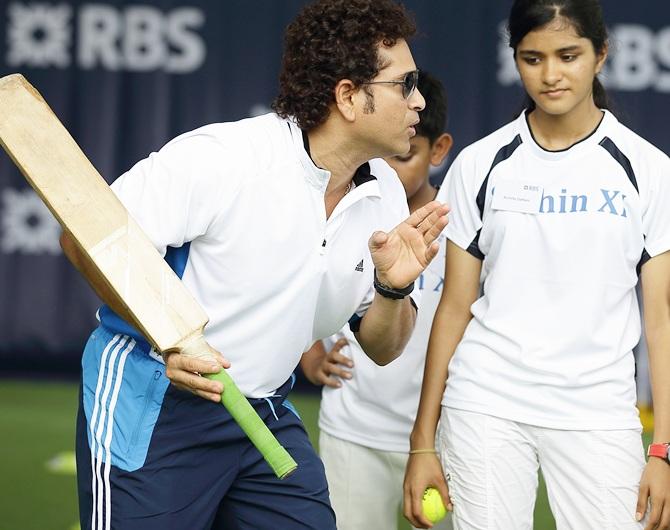 Sachin Tendulkar conducts a masterclass session with young cricketers. Photograph: Suhaimi Abdullah/Getty Images
Sachin Tendulkar's much awaited autobiography, Playing It My Way, was launched earlier this week amidst a great deal of fanfare. Prior to the fanfare however, there was a tinge of controversy when excerpts released before the launch of the book related certain interactions with former coach Greg Chappell, and his apparent plans for Indian cricket, including overriding the captain at the time, Rahul Dravid.
The excerpts made some cringe, and others salivate at the prospect of finally being given an opportunity for scandal in the otherwise stellar and blight-free careers of the two cricketers in question.
While this may have been a publicity stunt to increase awareness of the book release, the fact is that this controversy was unnecessary and unpalatable in the scheme of things. And, unfortunately, scandal rather than merit is what is more often a by-product of autobiographies or authorised biographies by celebrity sportspersons.
Buy the Book Right Here on Rediff
At the conclusion of a celebrity sportsperson's professional career, it is almost inevitable that an autobiography or authorised biography is written to summarise the sportsperson's point of view, and to highlight a side of the sportsperson's personality that had more or less escaped the public eye and adoration. Or at least, that is the stated intent. In reality, the intent rarely ever results in a fitting conclusion.
Sportspersons, more than any other category of celebrities, are provided the protection of image control throughout their playing careers. Strict directives on public speaking, interview protocol, social media guidelines and on how to conduct themselves during their personal time are part and parcel of how a sportsperson conducts his or her life. After all, a lot rides on the sportsperson's image.
Sponsorships, fan-bases, team and sport popularity, and a positive society-friendly reputation. It is very easy to eradicate this, and autobiographies often expedite the process. Writing an autobiography can have one of three motives - the need to 'come clean'; the need to share one's personal experiences as opposed to those that have been attributed to the individual; or, sadly the need to remain relevant while earning a sizeable cheque.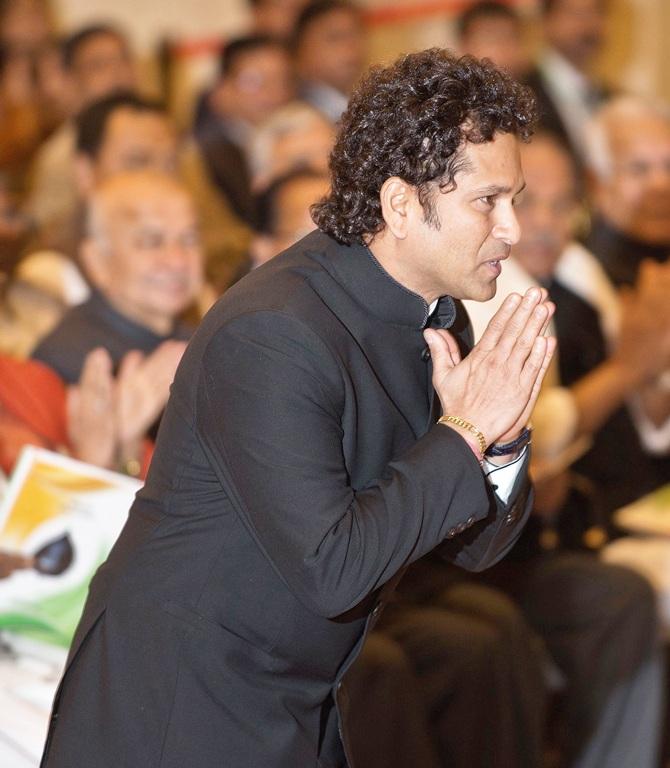 Sachin Tendulkar greets. Photograph: Prakash Singh/Reuters
Shoaib Akhtar's book Controversially Yours was a perfect example of why sportspersons should not write or authorise books. It rambled, it blamed, it self-flagellated, and it made the reader cringe. And while the stated intent of the book is unknown, the only thing it did succeed in doing was creating controversy. Andre Agassi's book Open, on the other hand, was critically acclaimed for its honesty and detailed account of the struggles Agassi faced as a global celebrity.
However, the book, despite its depth and honesty, is best known only for Agassi's admission that he used crystal meth. There are, of course, outstanding autobiographies by athletes, but they each address individual challenges due to their unusual situations. Like Bad As I Wanna Be by the notoriously flashy and unorthodox basketball player Dennis Rodman; or Days of Grace by the late Arthur Ashe that detailed his struggles as an HIV-positive individual and an African-American tennis player; or Winning Ugly, an outstanding book by Brad Gilbert, whose gamesmanship and court acumen overcame his lack of flair or God-given talent. Unless there is a unique aspect that an athlete wishes to document while retaining creative control, the athlete should exercise restraint, and just say no.
At best, an autobiography by a megastar like Sachin Tendulkar tends to be insipid, recounting situations or experiences that have already been documented and shared across mediums. At worst, however, the result can be debilitating. A sportsperson's hauteur can sometimes erode the cachet his brand and image has built over the years of greatness. Confessions of alcoholism, drug use, pettiness and/or insecurities are often not received well by fans whose adoration doesn't extend to being unconditional.
Luckily, Sachin Tendulkar's book has none of the aspects that can erode his reputation, but that still doesn't justify the need to write or authorise one in the first place. For a person his image and unsurpassable popularity, there was virtually no upside to writing an autobiography. His wand is his willow, not his quill. Perhaps he should have left it at that.