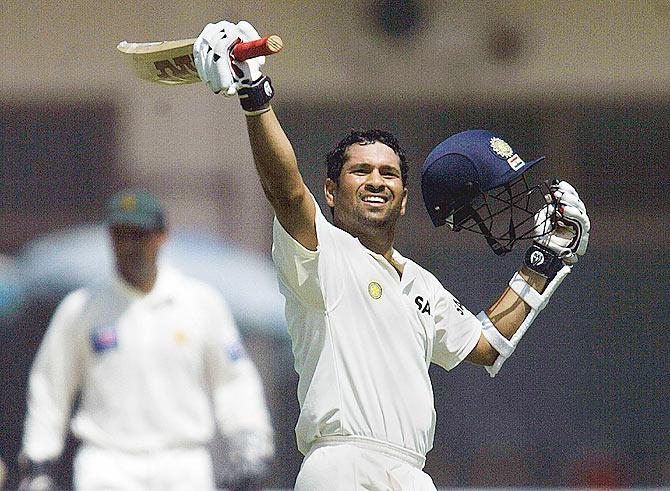 IMAGE: Sachin, after hitting a century in the first Test between India and Pakistan, Multan, March 29, 2004. Photograph: Arko Datta/Reuters
Legendary spinner Shane Warne and South Africa's Dale Steyn have been named alongside one another by former Australian skipper Michael Clarke in his best ever Test side.
Warne has been chosen as a captain of a well-rounded Playing XI, with spin rival Muttiah Muralitharan edging into the hypothetical team as 12th man.
- Clarke complains of having lost power to coach, team management
- Clarke reveals he said 'Watson part of group that are like a tumour'
Clarke revealed the line-up in his autobiography 'My Story', where he named seven Australians alongside five players from opposing nations in his best XI.
The 35-year-old has picked the dashing duo of Michael Slater and Matthew Hayden as the openers, with former Test skipper Ricky Ponting coming in at first drop.
Legendary batsman Sachin Tendulkar has been named as No.4 batsman followed by West Indies' Brian Lara and all-rounder Jacques Kallis of South Africa.
Adam Gilchrist has been picked as wicket-keeper while Mitchell Johnson, fiery Steyn, legendary seamer Glenn McGrath and Warne, thus forming a fearsome bowling attack.
Steyn's selection in Clarke's greatest Test side might came as a surprise as the duo had been engaged in a verbal altercation during the 2014 three-match Test series, which Australia went on to win by 2-1.
Muralitharan, the 12th man in the squad, has been named to carry the drinks in Clarke's team.
Clarke's all time Playing XI:
Michael Slater, Matthew Hayden, Ricky Ponting, Sachin Tendulkar, Brian Lara, Jacques Kallis, Adam Gilchrist, Mitchell Johnson, Dale Steyn, Glenn McGrath, Shane Warne, Muttiah Muralitharan.