Brendan Taylor carved his way to a career best score as Zimbabwe posted 389 in their first innings on day two of the first Test against Bangladesh at the Harare Sports Club on Thursday.
The Zimbabwe captain reached 171 before he was caught by wicketkeeper Mushfiqur Rahim off the bowling of Enamul Haque to end his 324-ball stay at the crease.
It was the highest score by a Zimbabwe Test skipper and a personal triumph for Taylor, who had come in for some heavy criticism over his form in the country's poor recent tour of the West Indies.
"I was happy with what I did today, but got out at the wrong time which put that 400 out of reach. My shot selection wasn't what it should have been at time," Taylor told a TV interview.
"We do bat deep so maybe I should have a bit more faith in them and stuck to it out there. On the grassy wicket you never felt you were in, they bowled really well and made it really tough for us."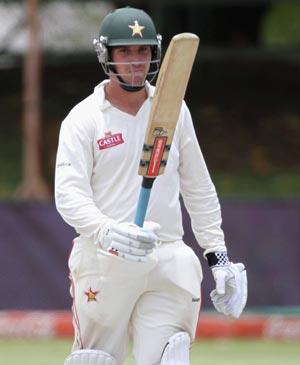 Bangladesh had few alarms in their reply as they rattled on to 95 for one at the close of play at a rate of almost four an over.
The only wicket to fall was that of left-hander Shahriar Nafees, who got a leading edge to a Kyle Jarvis delivery that Timycen Maruma snaffled at point.
Opener Jahurul Islam (38 not out) and Mohammad Ashraful (23 not out) will continue for the tourists on Friday as they look to build a first innings lead on a track that has some venom for the bowlers.
Taylor had earlier put on a patient 106-run partnership with Graeme Cremer for the seventh wicket as Zimbabwe resumed on 217 for four overnight, with the latter also notching his best Test score of 42.
The pair fell within two balls of each other with the score on 344, before the tail added another 45 valuable runs thanks largely to the efforts of debutant Keegan Meth (21) and Shingi Masakadza (21).
Scorecard
Zimbabwe first innings (overnight 217-4)
T. Maruma lbw b Robiul Islam 10
V. Sibanda b Robiul Islam 5
H. Masakadza c Mahmudullah b Enamul Haque Jnr 25
B. Taylor c Mushfiqur Rahim b Enamul Haque Jnr 171
M. Waller b Rubel Hossain 55
E. Chigumbura c & b Rubel Hossain 12
R. Mutumbami c Mushfiqur Rahim b Robiul Islam 11
G. Cremer c Mahmudullah b Sohag Gazi 42
K. Meth C Nasir Hossain b Enamul Haque Jnr 21
S. Masakadza C Juhurul Islam b Sohag Gazi 21
K. Jarvis not out 3
Extras (b-1, lb-5, w-2, nb-5) 13
Total (all out, 152.3 overs) 389
Fall of wickets: 1-10, 2-22, 3-65, 4-192, 5-223, 6-238, 7-344, 8-344, 9-381
Bowling: Robiul Islam 38-11-84-3 (w1), Rubel Hossain 30-6-87-2 (nb5, w1), Nasir Hossain 5-2-3-0, Enamul Haque Jnr 47-5-133-3, Sohag Gazi 22.3-1-55-2, Mahmudullah 3-0-7-0, Shakib Al Hasan 7-3-14-0
Bangladesh first innings
Jahurul Islam not out 38
Shahriar Nafees C Maruma b Jarvis 29
Mohammad Ashraful not out 23
Extras (b-4, w-1) 5
Total (for one wicket, 25 overs) 95
Fall of wicket: 1-53
Bowling (to date): K. Jarvis 8-1-39-1, K. Meth 8-2-22-0, S. Masakadza 6-1-16-0 (w-1), E. Chigumbura 2-0-14-0, G. Cremer 1-1-0-0.
Photograph: Philimon Bulawayo/Reuters