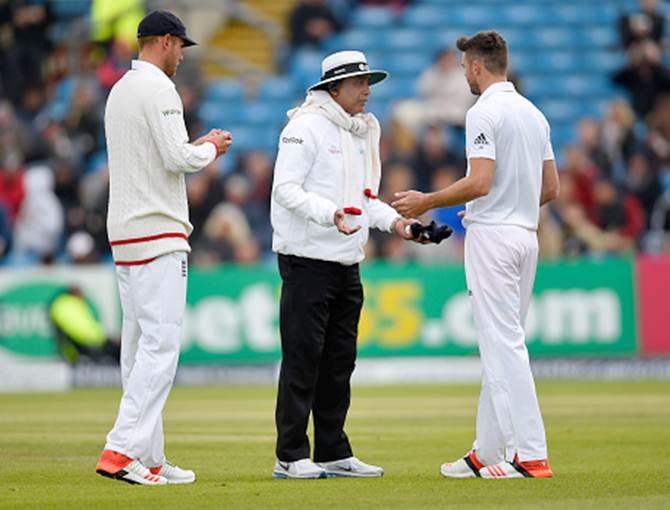 Umpire Sundaram Ravi warns England bowler James Anderson for running on the pitch during Day 3 of the second Investec Test between England and New Zealand at Headingley, Leeds, on May 31, 2015. Photograph: Stu Forster/Getty Images
Chris Gaffaney and Sundaram Ravi were promoted from the Emirates International Panel of ICC Umpires to the Elite Panel. They will replace Billy Bowden and the retiring Steve Davis.
According to a statement from the ICC, the Elite Panel of ICC Umpires for 2015-2016 is: Aleem Dar, Kumar Dharmasena, Marais Erasmus, Chris Gaffaney, Ian Gould, Richard Illingworth, Richard Kettleborough, Nigel Llong, Sundaram Ravi, Paul Reiffel, Rod Tucker and Bruce Oxenford.
The appointments, effective July 1, were made following an annual review and selection process, the statement added.
Gaffaney, who officiated in his first first-class match in 2005, made his international umpiring debut in Toronto in September 2010 in an ODI between Canada and Ireland, and has to date umpired in two Tests, 41 ODIs and 15 T20Is.
Ravi has umpired in six Tests, 24 ODIs and 12 T20Is, since making his international debut in Visakhapatnam in December 2011 in an ODI between India and the West Indies.
Both the officials also umpired in the ICC Cricket World Cup 2015 earlier this year in Australia and New Zealand.
ICC General Manager – Cricket, Geoff Allardice, congratulated Gaffaney and Ravi on their elevation.
"Their promotion is a testament to their hard work, as well as good decision-making and man-management skills over a period of time on the international panel. The ICC Umpire Selectors are confident that these two umpires will acquit themselves well at the top level, and that their selection will encourage umpires from all countries to aspire to elite panel selection if they are prepared to demonstrate the required ability, commitment and teamwork."
The 39-year-old Gaffaney, who also played 83 first-class matches as an Otago opener, was delighted with the news. "I am thrilled to be promoted to the elite panel as it has to be the aim of every umpire to be appointed to this select group.
"I have a number of people to thank, especially those who have assisted from the very beginning of my umpire career, and will be doing this individually in due course. I, however, need to mention the support and understanding of both the NZC and the Police force, who allowed me the opportunity to follow my career as a policeman and also as an umpire. I am extremely grateful for their understanding, which has made this possible."
Ravi, 49, the first Indian in the panel after former India captain Srinivas Venkataraghavan, said: "I feel honoured and privileged to be selected for the Emirates Elite Panel of ICC Umpires and thank the BCCI for its support and the ICC for providing this opportunity.
"I have always enjoyed the company of those umpires already on the elite panel and now I have the chance to work with them all on a more regular basis. I am really looking forward to the challenges ahead and aim to maintain a high standard of umpiring."
The Emirates Elite Panel of ICC Umpires was selected by the ICC Umpires Selection Panel comprising Chairman Geoff Allardice, ICC's General Manager – Cricket, ICC Chief Match Referee Ranjan Madugalle, ex-England player and coach and umpire David Lloyd and Venkataraghavan.
Emirates Elite Panel of ICC Umpires 2015-2016 (as on June 4, 2015)
| | | | | |
| --- | --- | --- | --- | --- |
| Umpires | Tests | ODIs | T20Is | On elite panel since |
| Aleem Dar (Pakistan) | 95 | 172 | 35 | 2004 |
| Kumar Dharmasena (Sri Lanka) | 29 | 65 | 17 | 2011 |
| Marais Erasmus (South Africa) | 30 | 62 | 20 | 2010 |
| Chris Gaffaney (New Zealand) | 2 | 41 | 15 | 2015 |
| Ian Gould (England) | 43 | 103 | 29 | 2009 |
| Richard Illingworth (England) | 14 | 38 | 11 | 2013 |
| Richard Kettleborough (England) | 27 | 57 | 17 | 2011 |
| Nigel Llong (England) | 28 | 93 | 20 | 2012 |
| Sundaram Ravi (India) | 6 | 24 | 12 | 2015 |
| Paul Reiffel (Australia) | 16 | 41 | 13 | 2013 |
| Rod Tucker (Australia) | 36 | 58 | 23 | 2010 |
| Bruce Oxenford (Australia) | 23 | 69 | 17 | 2012 |