West Indies spinner Sulieman Benn bowled a marathon, uninterrupted spell of 33 overs on the first day of the first test against England on Wednesday to dispel many of the question marks over his ability.
The 27-year-old Barbados slow left-armer has long been tipped as the player who could finally end West Indies search for a top class spinner but has rarely produced the performances to confirm his potential.
But on an unusually slow Sabina Park track, the gangly 6ft 7in (2 metre)-tall Benn was called on before lunch by his skipper Chris Gayle and bowled deep into the evening session with intelligence and guile.
He ended with figures of 2-64, including the prized wicket of England's Kevin Pietersen just three runs short of a century, but the statistics tell only part of the story.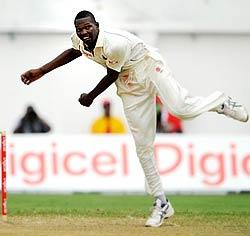 Benn used his height to extract bounce as well as spin and by mixing up his repertoire, he forced Pietersen and Andrew Flintoff to play with caution and concentration throughout their partnership.
"As a spinner, you've got to bowl long spells, you can't get away from it, especially if the pitch is that slow. You have to bowl long spells," Benn said.
"You get accustomed to it bowling in the Caribbean where there are such flat pitches," he added.
It was also impressive that Benn kept his cool when, near the end of his spell, Pietersen decided to go after him, striking him for two fours and a six in consecutive balls. With the next delivery Benn claimed the England man's wicket.
"Obviously I was very satisfied with it, he had hit me for 14 in the previous three balls, so it was very satisfying," said Benn, who placed the wicket amongst the most important of his short test career.
Indeed, Benn said his bowling on Wednesday was the best he has yet to produce.
"I've bowled some decent spells but I reckon this is the best ever," he told reporters.
The absence of a regular spinner from the West Indies side has been the focus of some debate in the Caribbean -- some cite a lack of talent while others suggest the region has an obsession with pace bowling that is outdated given the change in pitches.
Benn is proof that there are slow-bowling options for the selectors and he said he was not the only spinner of ability in the region.
"Personally I'm proud of the spinners in the Caribbean," he said. "There are some decent spinners around. There has been some talk about the lack of quality of spinners in the Caribbean and I want to prove those people wrong."
Photograph: Reuters