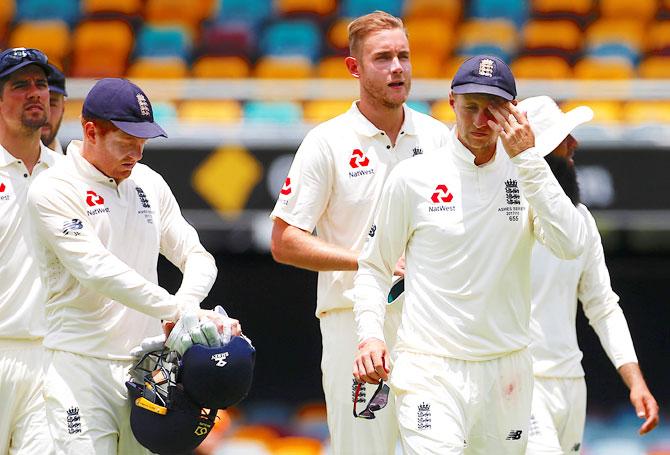 IMAGE: England players walk off the field after losing the opening Ashes Test at the Gabba in Brisbane on Monday. Photograph: David Gray/Reuters
England cricket chief Andrew Strauss has slapped a curfew on the Ashes squad, restricting the players from going out after midnight, in the wake of Jonny Bairstow's alleged headbutt on Australian batsman Cameron Bancroft earlier this month.
Strauss has also backed his players over the accusations of drinking culture in the team that emerged after the arrest of vice-captain Ben Stokes in Bristol street brawl incident.
"These guys are not thugs," Strauss said.
The former England skipper called his players "naïve" following the 'headbutting' incident, which dominated the headlines this weekend.
"These are good, honest, hard-working cricketers who sacrifice a lot to play for England. We've got to take steps to make sure that reality is what people perceive of the England cricket team, not something different. I think there's a bit of naivety there (among the players) and I think we need to be smarter," the Guardian quoted Strauss as saying.
Strauss also informed that he has spoken to Bairstow about the incident and was totally satisfied with the wicket-keeper's side of the story as to why he knocked heads with Bancroft.
The incident involving Bairstow and Bancroft reportedly happened outside The Avenue Hotel in Perth, when England were playing a warm-up match against Western Australia Cricket XI at the start of this month.
It is claimed that the incident went no further, and that the police were not involved in the matter.